With the Fourth of July holiday behind us, it's back to business as usual.
If you were out of town celebrating America's birthday, hopefully you didn't share a play-by-play of your whereabouts on social media. If so, you could've put yourself at risk of being burglarized or quite possibly becoming a victim of identity theft. Sharing too much personal information online is exactly what thieves thrive on thanks to the conveniences of modern technology and social media.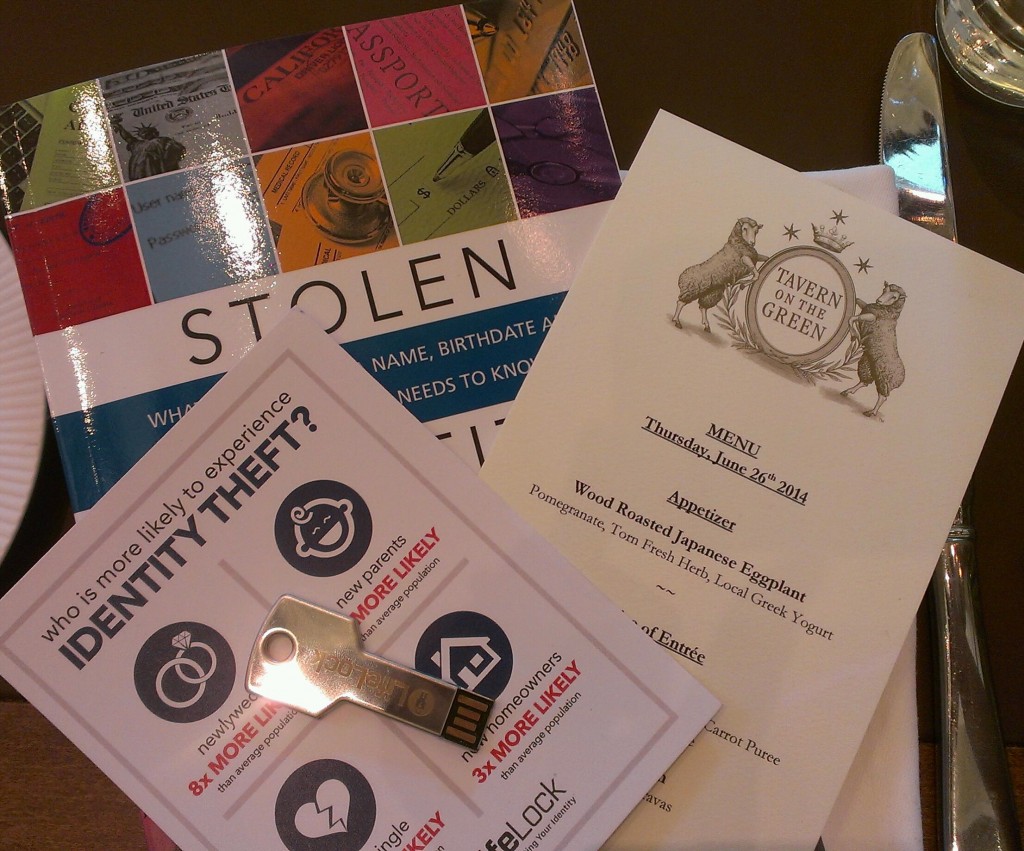 A snapshot from the LifeLock luncheon held at the iconic New York City restaurant, Tavern on the Green on June 26, 2014.
I recently attended a luncheon hosted by LifeLock, an identity and credit protection service, and learned that there are four groups who are even more at risk than the average American.
According to research, individuals who are embarking on a new phase of life are more susceptible to experiencing identity theft. The results indicate that newlyweds, new parents, newly single and new homeowners are all more prone to becoming victims.  In fact, newlyweds are 8 times more likely than the average population to fall victim simply due to insurance updates, name changes, and other miscellaneous paperwork.
For many of us, we will fall into one of these aforementioned categories at some point in our lives. In fact, a couple of years ago my credit card had been used without my authorization. That's why it's imperative that we protect ourselves from potential identity theft and online scams. Investing in a service like LifeLock is a smart and effective option. It can safeguard you from having to bear the legal costs of sorting out your life after financial disaster and credit score chaos as a result of identity fraud. As preventative measures it will provide the following: monitor your identity, scan for identity threats and track your credit score.
But, even without credit and identity protection services, there are simple steps that you can take to help keep your identity safe while still enjoying social media and other technological advances.
Check out a few tips below:
* Take identity theft risk seriously—so many don't believe that it will affect their lives. In fact, 1 out of every 4 adults have their identity stolen.
* Forego a few conveniences such as using the auto-login feature on sites.
* Order your credit report annually.
* Never save private information on a public computer.
* Before you dispose of a mobile device, make sure you delete information permanently.
* Don't overshare on social networking sites.
* Before you send personal information over your laptop or smartphone on a public wireless network in a coffee shop, library, airport, hotel, or other public place, see if your information will be protected.
For more information on how to protect your identity or what to do if you do become a victim of fraud check out www.consumer.ftc.gov.
Have you ever been a victim of identity theft?