There's an eye-opening innovation about to sweep the beauty scene.
Forget liners, shadows, false lashes and mascaras—ACUVUE's 1-Day Define Contact Lenses with Lacreon Technology is the latest way to enhance eyes. Creating a well-defined dark line around the iris (limbal ring), these lenses provide dimension and depth without compromising one's natural eye color. The iris-inspired designs have light-effect patterns that make eyes look brighter and more defined.
They're the first brand of contacts to provide this unique, beautifying quality to eyes in the U.S. In fact, they've been popular overseas for over a decade, but now it's finally our turn to hop on the eye-catching trend.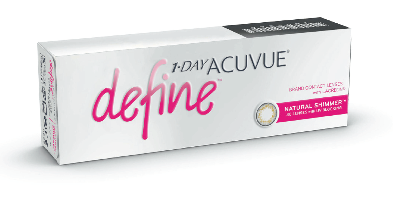 1-Day ACUVUE Define Contact Lenses prices vary by doctor, but are approximately $75 per month. Click here for more information.
Last month, I had the opportunity to try them on during a press preview and was blown away by how much of a difference they made. Even though I wear glasses and aren't familiar with contacts, they were a breeze to put on and surprisingly comfortable. They instantly gave my eyes a deeper appearance that I liked. Granted, it's a subtle change, but definitely noticeable. It's one of those beauty tricks that will have people guessing what you did differently (in a good way)!

If you're looking to accentuate your eyes' natural beauty, give these lenses a try. Don't get them confused with those cheesy colored-contacts from back-in-the day because these aren't colored lenses.
They're available in three styles: Natural Sparkle, Natural Shimmer and Natural Shine (the ones I tried). Plus, they provide UV protection by blocking 81% of UV-A radiation and 97% UV-B radiation.
Would you try these eye-hancing lenses? Do you prefer contact lenses or glasses for better vision?