A few weeks ago I experienced a trip of a lifetime. No, it wasn't to an exotic locale or luxurious beachfront resort. I traveled to one of the most special places I've ever visited—St. Jude Children's Research Hospital in Memphis, TN.
Invited by the hospital to see first-hand how it operates, I was excited to learn more. I'd heard about the hospital throughout the years from commercials and seeing Marlo Thomas (the founder's daughter) speak about it on TV, but I didn't have a true understanding of everything the child-focused healthcare facility does.
For starters, I learned that the hospital only takes patients (ages birth to 18) with the most life-threatening illnesses such as cancer and sickle cell disease, which is a blood disorder that causes red blood cells to become hard and sickle-shaped, instead of soft and round. And, the parents of the patients will never receive a bill.
Yes, you read that correctly! PARENTS OF ST. JUDE CHILDREN'S RESEARCH HOSPITAL PATIENTS WILL NEVER RECEIVE A MEDICAL BILL!  The hospital believes that these parents are undergoing some of the most incredible stress imaginable and worrying about medical bills shouldn't be one of them. From the finest foods to state-of-the-art housing, this one-of-a-kind hospital caters to every need that a family enduring these unfortunate circumstances could want—at no cost.
From the moment I arrived at the hospital, there was a warm and inviting atmosphere unlike any other hospital I've stepped foot in. The walls were covered in colorful murals and breathtakingly beautiful artwork created by the patients. Elephants were also a recurrent theme  throughout the hospital and housing facilities. A symbol of luck in many cultures, elephants are also known to live long lives.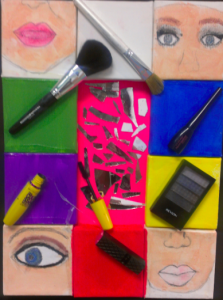 An eye-catching piece of art from a St. Jude patient.
Throughout my weekend visit, I met some of the most extraordinary children that I've ever encountered. Their strength was beyond admirable and their determination nothing less than outstanding. Courtney, 10, who suffers from sickle cell disease was beaming with star quality. Her smile and outgoing personality made it hard to believe that she's ever suffered from any disease.
Courtney and me.
The young beauty has been treated at the hospital since the age of 2. Thanks to St. Jude's groundbreaking research, Courtney thrives with the help of a drug called hydroxyuera.  She told me that she "loves New York" and wants to move here one day to pursue her dreams of becoming a singer/actress.
"I've seen 'Mary Poppins' and 'The Lion King' while in New York," she said with excitement. With her spunk and bright outlook, there's no doubt in my mind that she's well on her way to becoming one of Broadway's biggest stars.
The entire visit was filled with inspiring stories, harrowing tales and encouraging accounts of courage. This trip has forever changed my perspective on life. So many of us take our health and our children's health for granted. Watching those young people endure some of the most painful challenges while still smiling is something that will stay with me forever.
While I gained so much insight and knowledge during my trip, I can't begin to tell you guys everything. Here are few of the best tidbits of information that I received:
*St. Jude Children's Research Hospital was founded by the late entertainer Danny Thomas (star of Make Room for Daddy) in 1962.
*Founder Danny Thomas vowed that he would build a hospital that took in all patients no matter their race, creed or religion. At that time, his decision and promise played a pivotal role in the segregated south during the 1960s.
*No family ever receives a bill for the care their child receives at the hospital.
*St. Jude Children's Hospital is the leader in sickle cell research in the world.
*Approximately 1 in 375 African-Americans is born with sickle cell disease each year.
*Bone marrow (stem cell) transplantation is the only cure for sickle cell disease and St. Jude performed the first successful one in 1983.
*For every child treated at St. Jude Children's Research Hospital, thousands more have been saved worldwide through the hospital's discoveries.
*It costs 1.8 million dollars A DAY to run St. Jude Children's Research Hospital.
*Everyone associated with the hospital are truly angels on earth! From the volunteers to the doctors, everyone is like a family.
Check out this cute video:
As a parent, it is my hope that my daughter never has to be admitted to St. Jude, but for all of those children who are there are in the best hands. Supporting this hospital is something that we can all do. Whether it's $5 or $500, we can all pitch in to help save the lives of sick children. Also, be aware that during the holidays, numerous retailers including: Target, Kmart, CVS Pharmacy, and many more have products whose proceeds go directly to the hospital.
If you would like to donate to St. Jude, please visit www.stjude.org for more information.
Have you ever donated to St. Jude Children's Research Hospital?