Being a busy mom of two, I rarely get the opportunity to indulge in the luxury of spa pampering.
Thanks to Bliss Micro Magic, it's now easy for me to recreate a spa-like facial experience in the comfort of my own bathroom. A cross between a mask and a cleanser, this at-home microdermabrasion treatment has been a godsend for my skin.
The fine micro-beads exfoliate by gently sloughing away dead skin cells leaving behind a super soft and clear complexion. Plus, it manages to make my pores appear smaller.
I've been a fan of Bliss Spa and just about every product from the brand for years, but I was especially drawn to Micro Magic because it's formulated with volcanic pumice. There's just something intriguing about a product containing anything from a volcano! Not only does the volcanic pumice make the treatment an interesting beauty buy, the aloe, peppermint, and Vitamin E ingredients seal the deal.
Although the directions suggest using the product twice a week for the best results, I'm already impressed with my skin's appearance after a single use. I'm going to use it again tonight, but can't imagine my face looking any more radiant.
If you're in need of a good facial, but short on time or money give Micro Magic a try!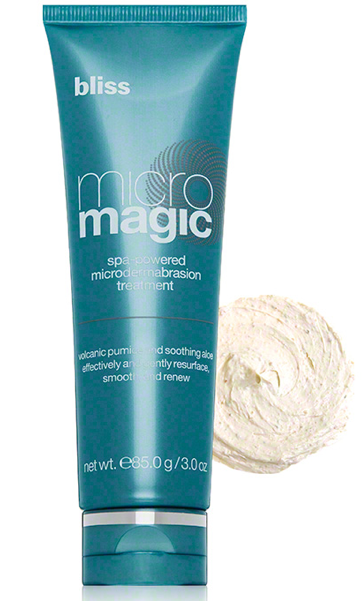 Bliss Micro Magic Microdermabrasion Treatment available here, $48
How often do you get facials? What are some of some of your at-home spa products?