Who doesn't know that black girls rock? Last night's broadcast celebration of our astounding beauty, undeniable talent and impressive societal contributions was a true testament to that notion.
Actresses Regina King and Tracee Ellis Ross killed it as co-hosts of BET's "Black Girls Rock!" award ceremony held at the New Jersey Performing Arts Center  in Newark. While their fun and charismatic  energy was entertaining, Regina'seye-catching makeup almost stole the show!
Inspired by Regina's flawless and radiant skin, celebrity makeup artist, Oslyn Holder, wanted to create a look that highlighted the "American Crime" star's covetable complexion.
Check out how he achieved Regina's lovely beauty looks using SheaMoisture products below: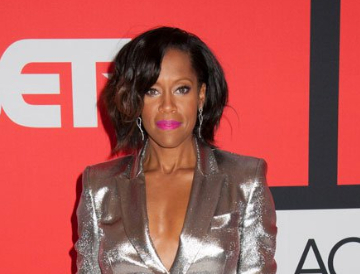 HER SKIN:
*To achieve a luminous and creamy canvas, moisturize and prime skin to ensure a flawless finish.
*Using the SheaMoisture Foundation/Concealer Duo Brush, apply SheaMoisture Sheer Liquid Foundation in Gobi Bronzi over the entire face.
*To highlight and brighten the under eye area, lightly pad SheaMoisture Créme Concealer in Fawn under the eye.
*Apply the SheaMoisture Color Correcting, Contouring & Highlighting Palette in Medium Dark, mixing the colors to ensure a perfect shade to highlight under eyes, temples and high plains of the face and neck.
*Set makeup with SheaMoisture Wet/Dry Pressed Powder in Yuma Pecan.
*Following, sweep SheaMoisture Illuminating Powder in Havana Sunrise on the apples of cheeks, forehead, nose and cheeks to for a sun-kissed glow. Follow up with Mandalay Dusk on contoured areas.
*To finish complexion, apply SheaMoisture Mineral Blush in Varkala Spice on the apple of the cheeks.
HER EYES:
*Apply SheaMoisture Wet/Dry Eyeshadow in Claudia on the outer lid, sweeping Montana on inner lid and corner of eye. Blend to create a seamless finish.
*Lightly place SheaMoisture Wet/Dry Eyeshadow in Claudia as liner for lower lash line.
*SheaMoisture Liquid Eyeliner in Black is used to line the top lash line. Slightly wing towards the outer perimeter of eye.
*Complete look with SheaMoisture Volumizing Mascara in Black for top lashes, and SheaMoisture Lengthening Mascara in Black on lower lashes.
HER LIPS:
*Prep lips by using SheaMoisture Lip Exfoliator to smooth and moisturize.
*To achieve the opening look, use SheaMoisture Lip Crayons in Sarah and Kenia, in equal parts.
*Finish by applying SheaMoisture Lip Gloss in Jenny and Rosie, again in equal parts.
SheaMoisture products should be mainstays in our makeup bags because they're created with our various skin-tones in mind! Be sure to check out Target to explore the entire line!
Did you watch "Black Girls Rock!?" If so, what was your favorite part?