Forget Super Bowl Sunday, this past weekend was all about Beyoncé!
From the surprise politically charged "Formation" video drop to the top-notch halftime performance to the announcement of a world tour (can't link to the tour dates because her site crashed due to the influx of visits!) – Beyoncé pulled out all the stops to the shock and delight of diehard fans. After showing the world that she can use her music and platform to address social issues that affect BGs and guys in America, the multi-Grammy award-winning singer solidified her reign as Queen Bee.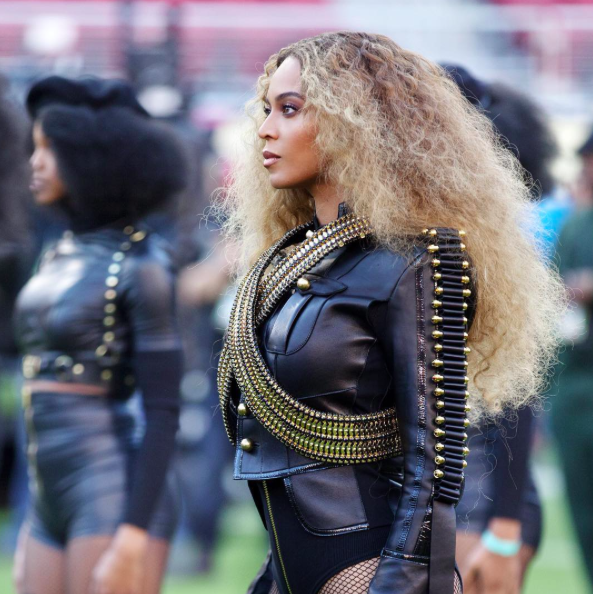 Beyoncé outfitted in Black Panther-inspired garb, is standing at attention before taking the centerstage at Super Bowl 50 in Santa Clara, CA on February 7, 2016.  Photo via Beyoncé's Instagram
As a result, there's no doubt that her already overcrowded Beyhive fan club is swarming with new applicants. Heck, I'm even considering signing up. But, to be honest I don't have the time or true desire to become a devoted member, but like many – I do enjoy her music and respect her relentless work ethic. That's why I'm hoping to snag a pair of tickets to one of her upcoming shows this spring. Considering I haven't seen her perform since 2003, I'll need to dust off my stinger and hope that the Beyhive welcomes me back with open wings!
In celebration of Beyoncé and all of her #BlackGirlMagic, take a scroll down memory lane and check out my top five Queen Bee videos of all time.

"Me, Myself and I" (2003) – This song reminds me of when I first moved to New York City and felt completely independent! It was just me, myself and I before my soon-to-be hubby joined me!

"Love On Top" (2011) – I used to sing this song to my daughter Ava when she was 2 and 3 years old. She loved this song and would ask me to play it over and over. At the time, it was the only popular song she knew (I don't play mainstream music at home – my kids think Michael Jackson is the only artist that exists – LOL). She thought Beyoncé's name was "Honey, Honey," and probably still does!

"Best Thing I Never Had" (2011) – This song holds no sentimental value for me, but it's just a great song that I enjoy singing along to!

"Heaven" (2013) – I've never lost a close friend, but we've all experienced the death of a loved one. This passionate tear-jerker is just so pure and relatable.

"Crazy In Love" (2003) – The song that started it all. Like "Me, Myself & I," this upbeat tune also reminds me of my early days of being a magazine intern in Manhattan. Fond memories that I'll cherish forever.
*Bonus*

"Formation" (2016) – Of course I couldn't compile a list without including Beyoncé's most socially-conscious video to date! Since I too "love my baby hair with baby hair and Afros," this song had to make the cut!
What's your favorite Beyoncé song/video?