Five years ago, the White House had yet to be historically revolutionized, I was 3 years shy of motherhood, and Twitter was still in its early stages of taking over the way in which we communicate. Yep, a lot has changed since 2007!
That's why for my 5-year blogoversary, I thought that I should follow suit and celebrate this milestone with a much-needed BGG facelift.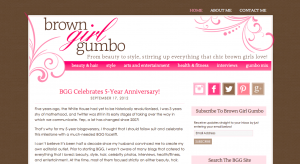 I can't believe it's been half a decade since my husband convinced me to create my own editorial outlet. Prior to starting BGG, I wasn't aware of many blogs that catered to everything that I loved: beauty, style, hair, celebrity photos, interviews, health/fitness, and entertainment. At the time, most of them focused strictly on either beauty, hair, fashion or celebrity. Hence, BGG was launched!
Since then, you guys (special shout-out to T, Sherita, Miss Mika, Shawnta, Antithesis, Kittyvodka and Kwana, a few of my BGG VIPs) have been with me through my pregnancy, bronzer obsession, and more!
I hope that you'll join me as I embark upon this new chapter for BGG!
P.S I'm still working out the site kinks so please bear with me. 🙂
Thanks so much for reading,
Karla aka BGG