A couple of weeks ago, I had the opportunity to attend my very first Blogging While Brown conference.
Thanks to AT&T, who sponsored my attendance, I was able to convene with fellow bloggers at the Schomburg Center for Research in Black Culture in Harlem. Since I've been blogging consistently since 2007, I'm not sure why I had never gone to the conference prior to this year. But, as the saying goes, "better late than never!"
Throughout the two-day event there were various sessions customized to address the needs of us African-American bloggers. From learning how to earn six figures as a professional blogger to the importance of building relationships with like-minded bloggers, I sat in on several informative sessions. Surprisingly, a couple of the seminars were quite interactive, which helped facilitate networking. I'm always a bit shy when introducing myself, so I felt that having attendees talk and work together was an excellent idea on behalf of the organizers. I even got the opportunity to meet media personality, Jacque Reid, whose career I've admired since her days at BET.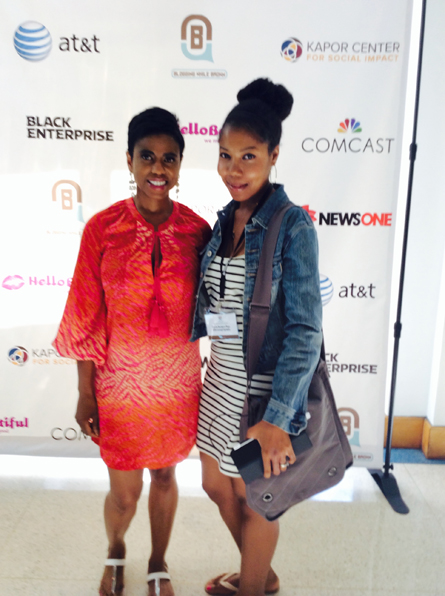 Jacque Reid and I at the Blogging While Brown Conference in NYC on Saturday, June 28, 2014.
While I enjoyed hearing about effective tactics on building traffic, ways to monetize my blog, as well as how to get invited to speak at conferences, I was mostly anticipating AT&T's panel discussion on "Inspired Mobility"—a national conversation about the cultural shift in how people use mobile and Internet technology to enhance their faith experience.
As a blogging partner with the popular telecommunications company, I knew about the "ministry meets mobile" initiative, but was excited to hear their team share it publicly at the conference. Plus, I wanted to learn about the findings from the survey that AT&T conducted in collaboration with Ebony magazine on this subject. Prior to being approached by AT&T for this campaign, I honestly had never thought about how faith and mobile technology could be merged.
AT&T U.S. Diversity Corporate Communications Executive L. Michelle Smith, Technology and Social Media Director, T.D. Jakes Ministries/ AT&T consultant Jason Caston, Digital and Social Media Expert Tiffani Robinson, and Ministry Multimedia Expert Chip Dizard led the engaging discussion. They talked about how using mobile technology apps such as Twitter are a great way to share the spiritual and faith-based conversation beyond places of worship. In fact, Robinson stated that using these easy online tools could ultimately reach a generation that would probably not hear certain scriptures and inspiring words outside of social media. According to Caston, "We're witnessing a cultural shift. Mobility allows churches to expand their reach and connect with more people."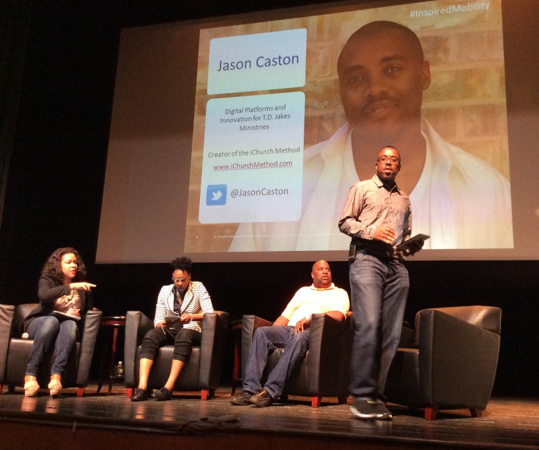 Pictured L to R: L. Michelle Smith, Tiffani Robinson, Chip Dizard and Jason Caston during the AT&T "Inspired Mobility" panel discussion during the Blogging While Brown conference on Saturday, June 28, 2014 in New York City.
After the discussion from the experts, the floor was open for questions from the Blogging While Brown audience. The conversation got interesting with inquiries such as the appropriate ways to use social media while in church. Caston provided a few tips during the panel discussion and he also has compiled a list of guidelines here.
Throughout the conference I interviewed a few people and asked them their opinions about the church using mobile technology. Not surprisingly, I found that all of them embraced the concept. No one really feels like using iPads and cell phones during church is taboo anymore.
Check out the clips below:

Sarah, the founder of the Colorism Healing blog, shares her thoughts on bridging the gap between mobile technology and the church during the Blogging While Brown conference.
Blogging While Brown attendee, Leah of Washington, D.C., shares her thoughts on bridging the gap between mobile technology and the church.
Blogging While Brown attendee, Nancy of Brooklyn, shares her thoughts on bridging the gap between mobile technology and the church.
Overall, it was a wonderful weekend full of learning, networking and being a part of a special initiative. Thanks again to AT&T for giving me the opportunity to attend the conference and be a part of the "Inspired Mobility" campaign.
*Disclosure: I received an iPad Mini and other accessories from AT&T.
UPDATE: Winner Announced!! Congratulations, Netta! You're the winner of the iPad Mini Giveaway! Please send me your mailing address for shipment. Thanks to EVERYONE who participated and left a comment. Be sure to check out BGG daily for more giveaway opportunities!
**GIVEAWAY: In celebration of AT&T's "Inspired Mobility" campaign, I'm giving away a Gift Pack which includes: (1) iPad Mini and AT& T accessories. Simply leave a comment telling me your thoughts on using mobile technology at church. Do you use Twitter, Facebook or Instagram during service? One lucky reader will be randomly selected and announced Tuesday, August 5th. This giveaway is only open to U.S residents.