When it comes to getting more bang for your buck, I'm always onboard.
And that's the case with Cambiami, a new customizable sandal line that launched last month.
Italian for "change me," Cambiami sandals make it easy to do just that. With the quick switch of a strap, these chic sandals can instantly be transformed into a style that suits your taste.
Offering over 24 colors and patterns, these innovative sandals make it possible to have a variety of looks without breaking the bank.
Cambiami sandals are available here, $85 (gets you one base/sole & two "uppers"). Each additional pair of "uppers" are $25 and additional base/soles are $40.
Plus, they simplify packing for those fun summer getaways. No more over-stuffing your suitcase with loads of sandals; simply toss in a few interchangeable straps dubbed "uppers," and you're good to go!
Each pair (black or tan soles) comes with two "uppers" of your choice and are super easy to insert. Typically, when you get a two-for-one kind of shoe, it's clunky or uncomfortable, but not with this line.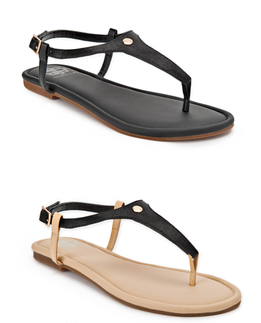 Cambiami sandals (pictured in black genuine leather) are available here, $85
Versatility, comfort and affordability make these sandals a must-have for summer shoe lovers!
Would you purchase a customizable sandal?