Calling all Disney fans!
In case you didn't hear, Toy Story Land is coming to the Walt Disney World Resort this summer with the official opening date of June 30, 2018.
I got a sneak preview of the playtime paradise right here in New York City and let me tell you, it's going to be magnificent—but that's no surprise because Disney always delivers.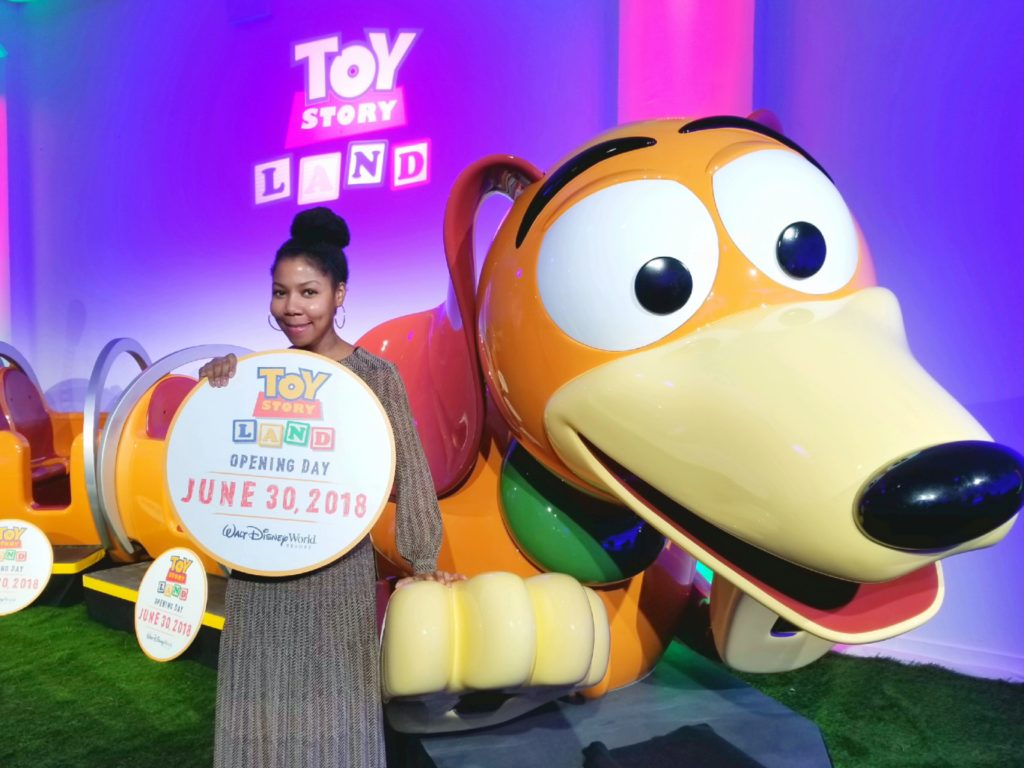 Inspired by the blockbuster DisneyŸPixar franchise, the all-new 11-acre fun-filled world is located within the already magical attraction of Disney's Hollywood Studios. With two new rides and one that's been updated, guests will be fully immersed in thrilling entertainment surrounded by vibrant, nostalgic toy novelties. Plus, there's a whimsical spot to grab on-the-go refreshments when hungry strikes.
Below, check out the details on what's in store at Toy Story Land:
Slinky Dog Ride
My son is obsessed with Slinky Dog. Right now, he has four slinky dog toys of different varieties, but one can never have too many Slinky Dogs, right? Well, there's only one Slinky Dog you'll want when visiting Toy Story Land and that's the family-friendly roller coaster.
With tracks and supports in bright primary colors, riders are seated inside the belly coils of the stretched-out pooch. Riders will zip around and above Toy Story Land, providing panoramic views of all that the new destination has to offer. I had the pleasure of taking a virtual ride on this coaster and it was completely exhilarating.
Alien Swirling Saucers
No theme park is complete without getting bumper to bumper and Toy Story Land is no different. Riders will be in for an out-of-this world experience as the alien-inspired saucers glide riders into a fun-filled galaxy.
The galactic space toy is designed as a playset that Andy won at the Pizza Planet restaurant in the popular movie. The undeniably cute green aliens swirl about in their flying saucers with guests in tow in their rocket-ship toys, while "The Claw" hangs overhead. Plus, the space is covered, which provides shelter from the beaming sun or intermittent rain showers that are common for Orlando summers.
Toy Story Mania!
One of my family's favorite attractions at Disney World, Toy Story Mania!, is getting an update making it better than ever. With a brand new decked-out entrance, the ride will have an all-new colorful toy carnival game box that leads to the playset action. With an additional third track, more park-goers will be able to get in on the fun of the beloved fast-paced games with a reduced wait time.
Woody's Lunchbox
After you've explored the new and updated rides, Toy Story Land will offer Woody Lunchbox to fend off hunger pangs. The nostalgic walk-up window will serve up delicious bites and old-fashioned soda floats that will transport you and your taste buds back to happier times. The food spot will also feature Mini Babybel – the Official Snack Cheese of Walt Disney World Resort.
If you're heading to Walt Disney World before the big opening, don't fret you'll be able to catch a preview of the new land at Disney's Hollywood Studios. A detailed model is on display at the theme park's Walt Disney Presents attraction.
I can't wait to visit soon!
Are you looking forward to visiting Toy Story Land? What's your favorite attraction at Walt Disney World?