If you're still planning that summer getaway, don't leave home without a few sun protection essentials from my friends at Aveeno.
Since becoming an Aveeno Brand Ambassador, I've tested and tried several options from the skincare brand. When my daughter was a baby I used, Baby Natural Protection Face Stick w/Broad Spectrum 50 SPF, which was super easy to apply and worked marvelously. My husband and I currently use the new Protect + Hydrate Sunscreen Lotion SPF 30.  I'm a stickler for smelly sunscreens and this one is nearly fragrance-free, which is a major plus.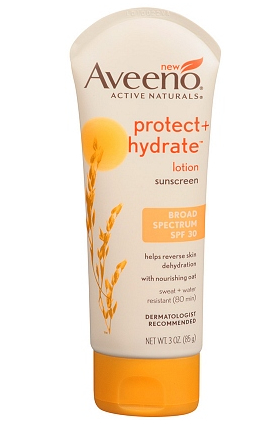 Aveeno Active Naturals Protect + Hydrate SPF 30 Lotion available here, $10.99
Also, with skin cancers on the rise, we need to make sure that we take the proper precautions to prevent the deadly disease. Dermatologist Dr. Jeanine Downie shared three highly-overlooked skincare tips that we all need to know while having fun in the sun:
1. Remember to use sunscreen on ears, posterier neck, and the tops of feet because they are the most overlooked places for sun protection.
2. Use a hypoallergenic, non-comedegenic sunscreen underneath your eyes consistently and do not rub your eyes. This alone will decrease dark circles.
3. Don't forget your scalp! "I am seeing more scalp skin cancers, many of which can be avoided. Protect your scalp from the sun by applying a spray sunscreen like Aveeno's Hydrosport Wet Skin Spray Sunscreen w/Broad Spectrum 30 to your hair, on your part.
Do you apply sunscreen everyday?