In case you didn't know, today (Feb. 8) is National Girl Scout Cookie Day!
Get ready to stock up on these classic treats in honor of the world's largest girl-led business. Whether you crave Thin Mints, Trefoils, Peanut Butter Patties, Samoas (my personal favorite), or one of the other traditional flavors, you'll be satisfying your sweet tooth while exercising girl power.
In fact, when you purchase a box of cookies from a Girl Scout, you are helping her gain life skills that can only be developed through personal interaction. It's important for them to experience what it's like to run their own cookie business through working directly with others.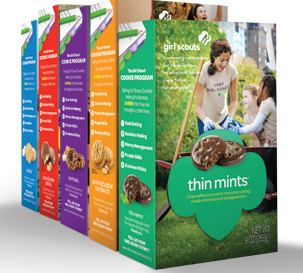 Photo Courtesy: www.girlscouts.org
In today's digital age, many people have lost the art of face-to-face exchanges and overall people skills that we don't want to pass that on to our future generations. That's why they don't sell cookies online;  but that doesn't mean that they haven't made it easy to get your cookie fix.
Thanks to the newly revamped "Cookie Locater" app, customers can find cookies sales, nearby Girl Scout Cookie Professionals and other pertinent cookie-tracking information with a simple tap on your phone.
If you're braving the imminent winter storm that's headed toward New York City today, be sure to stop by one of these pop-up Sweetery truck locations to help a troop and indulge in a delicious snack:
The 1st stop – 8:30-10:30am – 42nd St & Madison Ave;
The 2nd stop – 11:30am-1:30pm – 57th St between 5th & 6th Ave;
The 3rd stop – 2:30-4:30pm – Park Ave between 52nd & 53rd St; and
The 4th stop – 5:30-7:30pm – Amsterdam Ave between 70th & 71st St.
You can follow the truck on twitter @GirlScouts and @SweeteryNYC.
It seems like yesterday when I was a little 8-year-old girl in my green and white uniform. Yep, like countless other women, I, too, was once a girl scout!  Oh the memories, and of course tasty cookies!
GIVEAWAY: What's your favorite Girl Scout cookie? One lucky reader will win five boxes of your choice. For a chance to win, simply leave a comment below or tweet your answer to: @girlscouts with #onemorebox.