Who said coloring books were just for kids?
For the past few years, coloring books have become popular among the older set. Adults are now realizing that drawing in swirly shapes and cool doodles can be an easy and cost-effective stress reliever.
And now that chilly weather has arrived, it's the perfect time to tap into your inner child and unleash your creativity. Curling up on the couch with a coloring book in the fall can be the perfect antidote to a bad day.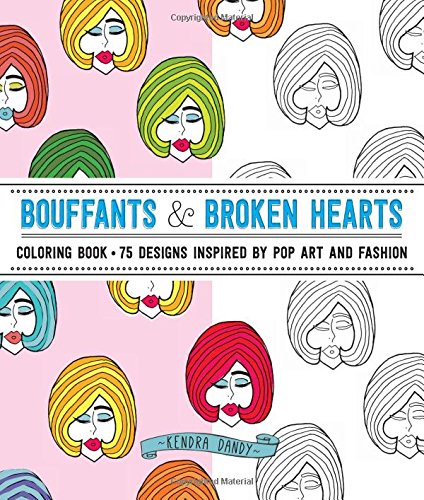 "Bouffants & Broken Hearts" by Kendra Dandy available here, $16
For me, I enjoy coloring books that are whimsical, playful and simply speak to me. Right now, I'm totally obsessed with Kendra Dandy's, "Bouffants & Broken Hearts."
Fashion and pop art inspired, the book takes coloring to new, imaginative heights. Being a beauty buff, adding color to lipstick tubes and tropical fruit instantly ignites my soul. There's something about putting colored pencils to the blank, outlined pages that produces a calming sensation. Her brilliant, quirky artistry allows me to escape the day's hardships and unwind. I've already colored a few pages and can't wait to fill in more of the funky prints.
If you're looking for a relaxing and therapeutic way to spend some me-time, pick up this coloring book.
We can all add beauty to our lives, one pencil or crayon stroke at a time.
Do you enjoy coloring books as an adult? How do you unwind after a hectic day?