Since Queen Latifah looked so ravishing at this past Sunday's Oscars, I thought now would be the perfect time to tell you about a couple of new products that I've tried from her CoverGirl Queen Collection.
As many longtime readers know, I am not a huge fan of foundation. In fact, I've probably worn foundation on two occasions: my wedding and when a makeup artist did it as demo at an event. In every day life, it just doesn't fit in with my basic beauty routine. That was until I tried the new All Day Flawless 3-in-1 Foundation.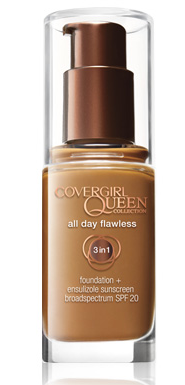 CoverGirl Queen Collection All Day Flawless 3-in-1 Foundation available here, $10
It's easy to blend like foundation, but it has the coverage of a concealer and the staying power of a powder. While I'm not that big on powders either, my favorite part about this product is that it has exceptional coverage and eliminates shine. I dab a bit  on slight blemishes and I'm good to go! I still would never use it all over, but it definitely does the trick for hiding minor dark spots due to hyper-pigmentation.
In addition to the foundation, the Queen Collection's new Jumbo Gloss Balm is incredibly innovative and practical.  If you're a lip gloss or lip balm girl, this cool lippie is the best of both worlds! It has the precision of an oversize liner combined with the application of a balm, but with the finish of a gloss. The best thing about this cute crayon-like product is that it's a breeze to apply and gives just the right amount of color and leaves lips super soft. Oh and of course the fact that it's made with us BGs in mind makes it even better!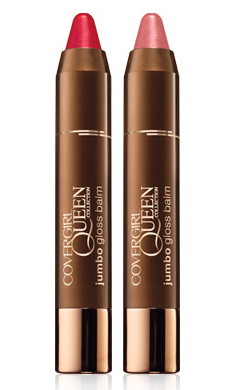 CoverGirl Queen Collection Jumbo Gloss Balm available here, $7 (comes in a variety of 16 shades)
Have you ever tried any products from the Queen Collection? If so, what are your favorites?