There's good news for all of the  "Doc McStuffins'" fans in your life, the hit animated Disney series is coming back for a second season with brand new shows starting Friday, September 6.
If you don't have a child (2-7) in the house, you may not be familiar with the show, but you should be!  It's a groundbreaking cartoon that features a cute little brown girl named "Doc" who emulates her mother (who is a doctor) by caring for and fixing her broken and ailing toys.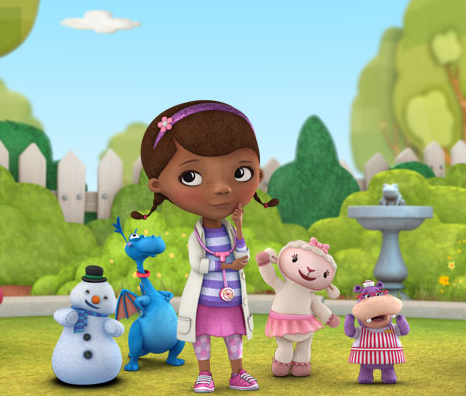 "Doc McStuffins" season two premieres, Friday, Sept. 6 on DisneyJunior.
My daughter, Ava, has been a fan of the series since its premiere last year. It's such a refreshing show because it entertains children while teaching them the importance of being healthy. Plus, it helps take the fear out of visiting the doctor and gives them aspirations beyond being a pretty princess.
For the past few weeks the show has gone on the road. Last month, the "Doc Mobile" kicked off a multi-city tour in Boston. Themed "So Much You Can Do…to Take Car of You," the 27-foot custom-made trailer houses a fun and interactive experience for all of the mini doctors-in-training. In addition, there is an opportunity for parents and children to  meet real-life female African-American doctors from the organization, Artemis Medical Society.
I took Ava during their stop here in NYC and she enjoyed it! If you can catch the tour, it's definitely worth checking out!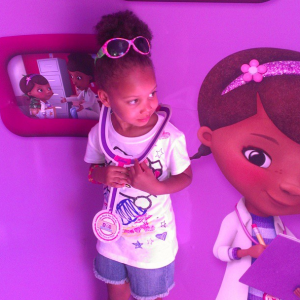 Ava at the "Doc Mobile" tour stop in Times Square.
Here are the remaining tour dates:
Friday, September 6
Dallas/Fort-Worth, Texas
Fort Worth Museum of Science
Tuesday, September 10
New Orleans, Louisiana
Audubon Zoo
Saturday, September 14
Atlanta, Georgia
Centennial Olympic Park
Tuesday, September 17
Washington D.C.
The Yards Park
Thursday, September 26
Los Angeles, California
The Grove
Saturday, September 28
Phoenix, Arizona 7:30 a.m. – 3:00 p.m.
Arizona Coalition For Tomorrow Kids Health Fair – Salvation Army Community Center
Do you have children or family members who watch "Doc McStuffins?"