Now that I'm a mom of two, Mother's Day will be even more special for me this year.
Since my children are too small to purchase gifts for me without the help of my husband, I'm simply looking forward to enjoying the day doing what I love most—relaxing!
But, if they were old enough to use their allowance to buy me a bouquet of flowers or some other gift, I'd encourage them to get something that gives back.
After my life-changing visit to St. Jude Children's Research Hospital back in 2012, I'm always looking for ways to support their efforts. It currently takes $1.9 million a day to operate the Memphis, TN-based children's hospital so that no family has to ever worry about a medical bill.
That's why LOFT, Nine West and Kay Jewelers have partnered with St. Jude this Mother's Day to pledge a portion of their proceeds to help raise money to continue providing the proper research and resources for these families.
Check out these deals and discounts that will not only make mom smile, but also give hope and light to families whose children need life-saving support:
LOFT – Loft Cares "Feel – Good" Card is available in-store now – June 1, 2014. Ninety percent of the $25 purchase price will go to support the lifesaving mission of St. Jude Children's Research Hospital to find cures and save the lives of countless children around the world battling cancer and other deadly diseases. Customers can use the card through June 1 for 20 percent off every $100 purchase.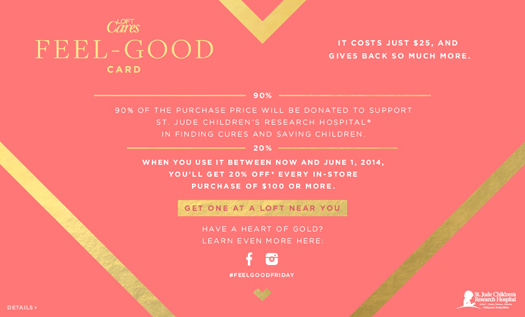 For more information, click here.
Nine West – The Nine West Western Loop Scarf is available in-store and online until June 30, 2014. The scarf retails for $32, of which $10 will help fund pioneering research and treatment at St. Jude Children's Research Hospital.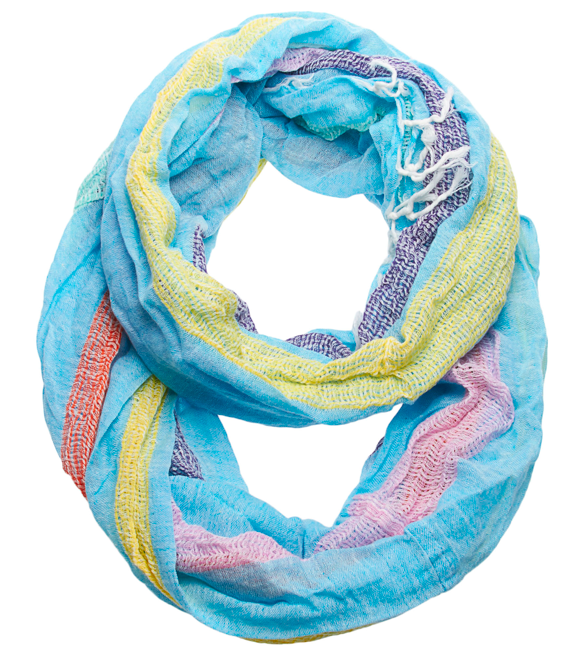 Nine West 'Western Loop' scarf available here, $32
Kay Jewelers – The Kay Jewelers Open Hearts Mother's Day Card, available in-store at Kay Jewelers, will be sold from now until May 11, 2014 for $3. All profits, no less than $2.50 of each card, will be donated to St. Jude Children's Research Hospital to help ensure that no family ever pays St. Jude for anything, so they can focus on helping their child live.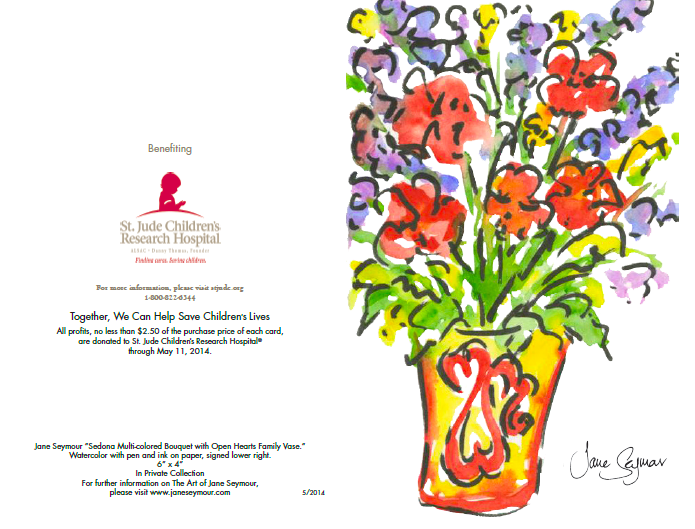 Be sure to check out more special cards available to e-mail, print or mail here. For more information on St. Jude Children's Research Hospital click here. 
What are you giving your mother this Mother's Day? If you're a mom, what would be your ideal way to spend Mother's Day this Sunday?