I've never been a  perfume type of girl, but that doesn't hold true when it comes to bath and body products.
Instead of spritzing on the latest bottled perfume, I'd prefer to lather on lotions and shower gels that are refreshingly fragrant, such as the Essence of Beauty line.
It's my current favorite because their lotions, gels and body mists provide just the right amount of fragrance without being too overpowering. Exclusively available at CVS, the collection includes a variety of scents that are expertly crafted by master perfumers. The shower gel is a true treat. It cleanses without stripping away natural moisture, while the body lotion seals it in. Finally, the body mist serves as a refreshing splash that provides the last layer of fragrance.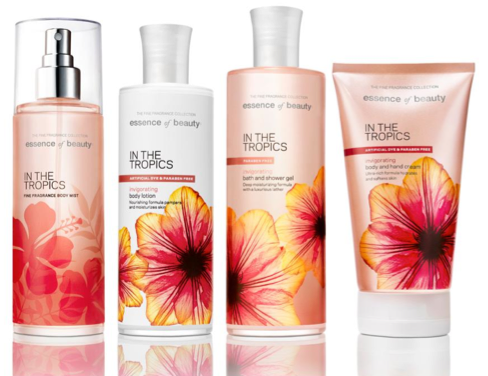 Essence of Beauty collection (bath and shower gel, body lotion, body mist and hand cream) available here, starting $5.99
Whether you're fond of floral, citrusy, sweet or woodsy smells, this line offers a series of fragrances to suit your scent style. Plus, they're free of parabens, artificial dyes, petrolatum and gluten, making it ideal for those with sensitive skin.
**What's your favorite scent? Are you into fruity, sweet, woodsy, or cool/clean fragrances? Two lucky readers will win an Essence of Beauty collection (4 products). Simply leave a comment stating your favorite scent and a winner will be randomly selected and announced next Tuesday, April 9th. This giveaway is only open to U.S. residents.