Now that the mercury is rising, it's more important than ever to stay fresh and dry.
For the past several weeks, I've been using Lavanila The Healthy Deordorant to keep perspiration at bay. Unlike many deordorants that are made with aluminum, parabens and other potentially harmful chemicals, this 100% natural gem is packed with conditioning essential oils and nourishing beneficial vitamins.
Plus, it does it's duty as a deordorant by keeping your armpits pleasantly scented and odor-free thanks to a natural technological breakthrough. Trust me, chasing after a toddler can work up a sweat and this deodorant does the trick!  Also, it doesn't leave behind that nasty, sticky film like other brands.
This summer is already stacking up to be a scorcher, so try this luxe deodorant and you won't be disappointed!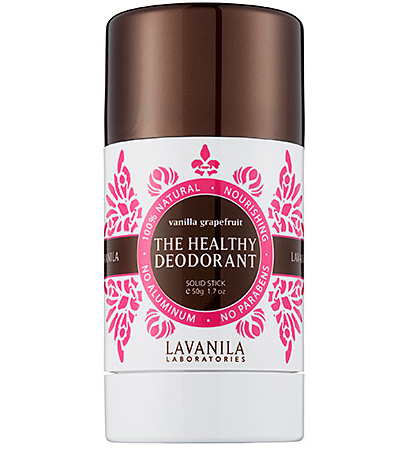 Lavanila The Healthy Deodorant is available in a variety of vanilla-based scents including: Vanilla Grapefruit, Vanilla Coconut, Vanilla Lemon and more! Click here to buy, $14.
Have you ever used an all-natural deodorant? If you'd like to try this brand, simply leave a comment and a winner will be randomly selected and notified by email next Monday, July 1st.