Since my boobs are no longer going up and down in size due to breastfeeding, it's time to get a bra fitting and go shopping!
Warner's has a line of bra and panties that won't pinch or tug in all the wrong places. Launching this month, the No Pinching. No Problem. collection promises to provide smooth silhouettes. For me, comfort trumps style—luckily, these bra and panties don't lack in either department. The seamless underwire or front-closure wire-free bra designs contours to the body creating a functional, yet sexy look. Plus, the hipster and hi-cut panties are soft and practical. Gone are the unflattering creases and painful digs that tight elastic panty bands and ill-fitting bras can cause. Who wants to be tugging and adjusting their unmentionables all day?
Not only can some bras and panties be uncomfortable, but wearing the wrong undergarments can wreak havoc on outfits too! That's why it's just as important to put thought into what you're putting on underneath as what you put on top.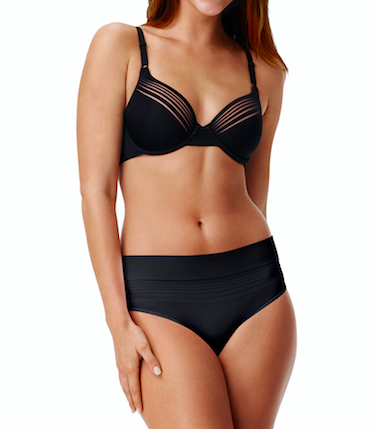 Warner's No Pinching. No Problems. collection available here, starting at $12
**GIVEAWAY: If you're looking to add to your intimate apparel wardrobe, you're in luck. I've partnered with Warner's to give two readers a bra and panties set valued at approximately $55. Simply leave a comment below or Tweet me (@BrownGirlGumbo) telling me what's more important to you when it comes to intimate apparel: comfort or style? The giveaway is only open to U.S residents. The winners will be randomly selected and notified via email on Tuesday July 21, 2015 (contest ends 11:59 pm July 20, 2015).