Like many little girls who were born in the 1980s, I was obsessed with Cabbage Patch dolls. I remember writing letters to Santa Claus pleading that he'd leave one of the yarn-haired dolls under my Christmas tree.
Fast forward 30 years and now I have the pleasure of watching my 6-year-old daughter obsess over her gorgeous Ikuzi Dolls.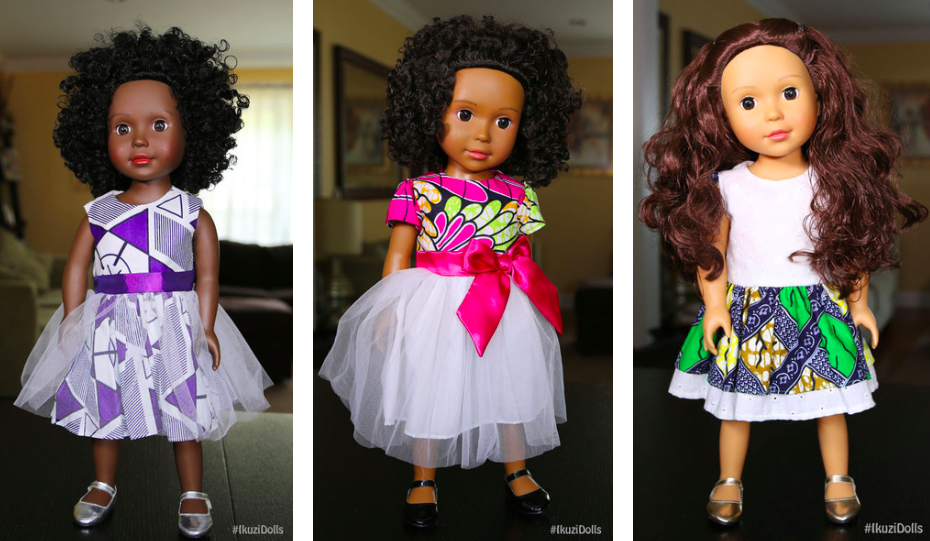 Ikuzi Dolls are available here, $80
Unlike the dolls of my era, Ikuzi Dolls come in a variety of shades to reflect and celebrate diverse skin tones. The beautifully crafted dolls are also decked out in designer African-inspired outfits that serve as a stylish nod to our rich heritage. Plus, the dolls' facial features, hair texture and eye colors have all been thoughtfully crafted with us BGs in mind.
Ava holding her "Dark Brown" Ikuzi doll.
Founded by Ozi Okaro, a mom of four who was inspired to create dolls that looked like her daughters, the collection is a lovely representation of black beauty.
It's so important for our young girls to see beautiful images of themselves and these dolls provide just that. Plus, Ozi aims to add more  skin tones and hair textures to reflect the world's growing diversity. Wondering if the dolls have names? They don't. Ozi encourages children to use their imaginations and name their dolls as they see fit. Traveling this summer? Don't worry, Ikuzi dolls come with a super cute pink carrying case that makes transporting easy.
If you have a little girl in your life, these dolls would make the perfect gift for her birthday, kindergarten graduation or simply as a "just because" present. You'll bring her joy while supporting a black-owned business. Now that's a win-win!
**Use the code: KARLA at check-out and you can get $10 off your purchase! 
What was your favorite doll growing up?