By now many of us have tried or at least know about BB creams. After hearing constant beauty chatter in the blogosphere about the all-in-one beauty buy, I've found one that actually lives up to the hype!
Jane Iredale the Skincare Makeup's Full Coverage Mineral BB Cream (aka beauty or blemish balm) is super lightweight and leaves my skin looking natural, only better!  I wasn't sure if I'd like it because a few of the other BB creams I've tried were less than impressive. Either they covered but suffocated my skin or were nothing more than a tinted moisturizer that didn't exactly complement my complexion.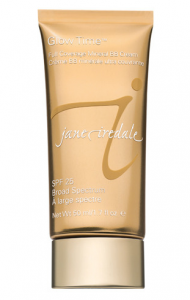 Jane Iredale Full Coverage Mineral BB Cream available (in a variety of shades for us BGs) here, $48
That said, my temperamental epidermis needs constant TLC. One day I might have a pimple the size of Mt. Everest and the next suffer from a case of the oilies, or I could, lo and behold…be blemish and oil-free! Basically, my skin is like that box of chocolates that Forrest Gump had, you never know what you're going to get!
Thankfully, this BB cream seems to be keeping my skin in check. It minimizes oil, evens skin tone, and provides a bit of coverage. Plus, it's packed with skin-boosting vitamins and natural properties such as apple extract and other beneficial ingredients. And of course it boasts a broad-spectrum SPF.
Remember, when purchasing a BB cream, it's important to find one that can effectively tackle your problems and cater to your skin's needs. Whether it's excessive oil, blemishes or you just want a bit of coverage without spackling on foundation, a good BB cream is your best bet.
Also keep in mind that a little goes a long way, just a few small dabs should do the trick!
Have you hopped on the BB cream bandwagon?