There are thousands of chefs, but only a few rise to fame—Carla Hall is one of them.
The Nashville-native, 48, is currently a co-host of ABC's popular daytime lifestyle show,"The Chew," alongside some of the most lauded celebrity chefs in the business. In that role, she treats viewers to a daily dose of her down-to-earth charm while showcasing her undeniable cooking chops. The former "Top Chef" contestant and former caterer has gained fans for her approachable "cooking with love," style and effervescent personality.
I recently caught up with the L'Academie de Cuisine alum and my personal favorite "Top Chef" all-star to discuss her debut cookbook, Super Bowl plans and of course…gumbo!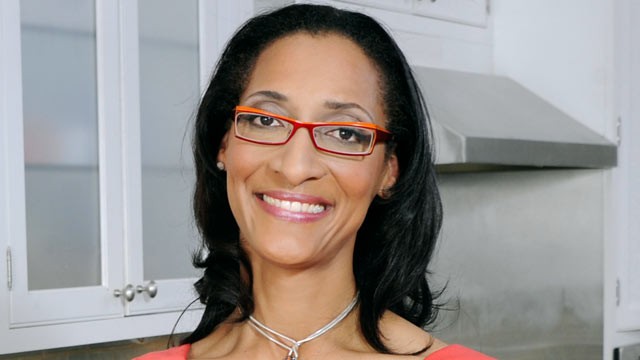 Photo Courtesy: ABCNews.com
Check out our Q&A below:
BGG: I know you have a degree in accounting from Howard University, but were you always in the kitchen as a kid?
Carla Hall: "Actually, no, I wasn't. I've always loved food, but my mother didn't really cook well so we would go to my grandmother's house every Sunday. I loved the food, but was never in the kitchen when she was making it."
BGG: Did you ever dream of working on a show like "The Chew?"
CH: "Well, people approached me about doing another show. So the idea was in my head that this might be great. Prior to 'Top Chef,' I didn't even think about being a full-time chef and that's another reason why I'm very grateful to the experience. I did want to major in theater. I always loved teaching cooking classes because I've always felt that there was a marriage between theater and food. 'The Chew,' is sort of an extension of that, but very different."
BGG: What's the most exciting part of your job?
CH: "The most exciting part of my job is working with people that I respect and learning a different perspective. The best thing about this show is having five different people and five different perspectives and showing people that there are more than one, two, three or four ways to skin a cat. The more that you show people that there's a different way of doing things, the more empowered other people become."
BGG: What did being on "Top Chef" teach you as a chef?
CH: "As much as it is about showing off your chops in the kitchen, I feel for me it was about not having an ego. When you want to impress someone with your food, it becomes less about tasty food and more about making something to 'wow.' And sometimes heart is left out of 'wow.'
Case in point, when we did the episode on Ellis Island, we had to create a dish connecting to our ancestors and where we come from. That was the most soulful food I ever remember people doing on 'Top Chef!'"
BGG: I know that the judges raved about your gumbo and potpie on "Top Chef," but what would you consider to be your signature dish?
CH: "The potpie is one of them. It was one of the first things that I learned how to make when I decided that I wanted to cook. I would say that's one of the dishes with the most history. It's changed over the years only because my technique has gotten better. I also love to do desserts. Another thing that I learned from 'Top Chef,' was my style. I think it was the fans that helped me to define myself as a chef. They saw me as a southern chef. And I was like, 'Really?' Even though I'm from the south, I didn't realize that everything I did was sort of colored and through that prism of southern food and it is. Sometimes it takes someone else telling you what they see versus what you feel you're doing. It was through 'Top Chef,' that I figured that out about myself. I'm always very open to what I'm doing."
BGG: Speaking of gumbo, since my site is called Brown Girl Gumbo, what's the key to making a perfect gumbo?
CH: "I think it's deep flavors. I made that gumbo (on "Top Chef") in 20 minutes and people were saying, 'How did you do that so quickly because it takes 20 minutes to make a roux?' It does take a long time to make a traditional gumbo, but I just wanted the flavors. I think that if you have really good ingredients, your holy trinity (carrots, celery and onion and Cajun-style onion, celery and peppers), thyme and bay leaves you're going to make a great gumbo. The secret for me is if I'm using shrimp, I'm going to use the shrimp shells; I just want that deep flavor. Oh and cook it the day before if you can!"
BGG: Tell me the story behind your cooking with love philosophy. 
CH: "My cookbook title, Cooking With Love, is two-fold. It is about cooking from the heart and that's just a spiritual factor for whatever I do, I want to enjoy it. I believe you do things better when you enjoy doing them. If you don't want to take out the trash and you're doing it begrudgingly, a hole will find its way in that bag! It can be with the simplest things! When you want to do something you tend to do it well. I always try to do the same with cooking from the heart so that I can give somebody a piece of myself.
The other part of it is because I'm a career changer, I'm finally in a place that I love. It's finally finding the thing that I love to do because that was a journey for me."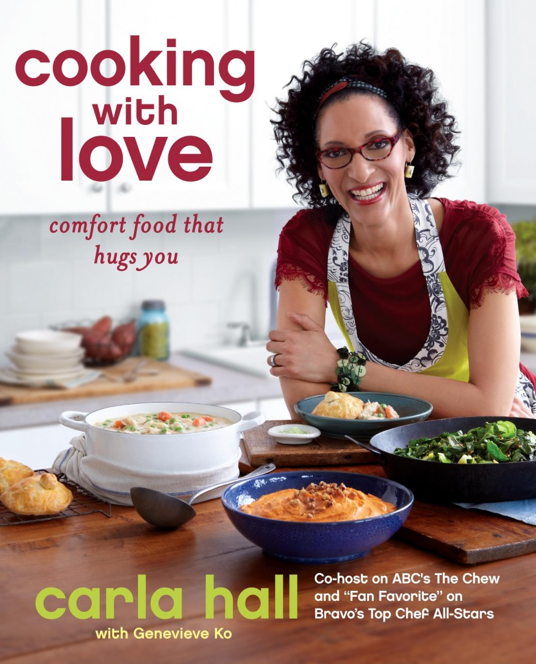 "Cooking With Love: Comfort Food That Hugs You," by Carla Hall  is available here, $17
BGG: What can readers expect from your new cookbook, "Cooking With Love: Comfort Food That Hugs You?"
CH: "There's something for everybody. There are some recipes that are for experienced cooks, but my pastry crust that I make in a mixer is very simple; anybody can do it! If you can turn a mixer on and put in salt, sugar, water and measure you can make it! Even my mushroom tart is really easy. When people make it, they'll say, "Oh wow, that was good. Let me try something else.' And that's what I want them to do. I want them to feel like they can make something happen with something that they like!"
BGG: What advice do you have for someone who's intimidated by cooking?
CH: "In the cookbook, I think about those people. I have very simple recipes and some that are more difficult. I say start with something that you know. Soups are the perfect things to start with, especially one that's pureed so you don't have to do a lot of chopping. Once you have those small victories, even if it's making salad dressing or making an omelet, those small victories give you the confidence to continue. Start with something simple."
BGG: I know you were one of the chefs asked to prepare food at the White House Easter Egg Roll two years in a row. Will you be there again this year?
CH: "It was so much fun! I was just at the White House a few weeks ago. It's such an honor to even be asked. I know that there are so many chefs, so if I don't get to go again this year, I won't call foul because I have been asked two years in a row."
BGG: Will you be cooking for the Super Bowl this weekend?
CH: "No! (laughing) I'm actually going to Mario Batali's (her co-host on 'The Chew') house. I was prepared to not do anything and just have a girly day, but Mario said, 'Are you coming?' He had a Super Bowl party last year and went all out. He gets all in to the food!"
BGG: I know that back in the day before you were in the kitchen, you were on the catwalk as a model. I have to ask, do you have any beauty secrets that you still swear by?
CH: "I never go to bed with my makeup on! People think that because they're in their 20s their skin will always be beautiful, but you have to take care of it. I always wear moisturizer and sunscreen."
Watch "The Chew's" co-hosts discuss their favorite things about Super Bowl Sunday:
Click here for Carla's simple gumbo recipe!
"The Chew" airs weekdays 1pm EST on ABC.
Do you watch "The Chew?" Will you be cooking for the Super Bowl?