Champion boxer, wife and mother, Laila Ali makes balancing family and business look easy!
The fab former fighter, 34, recently launched a line of styling tools with Helen of Troy (hair product empire) made with us BGs in mind.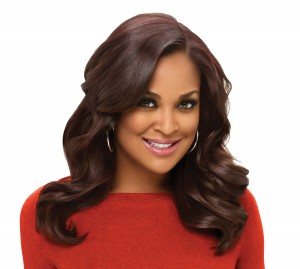 Specifically designed for our various hair types (with a concentration on natural hair), the ceramic and titanium technology that these tools use can heat up to 450 degrees, but still leaves hair healthy and prevents breakage. The line includes a variety of hair dryers, straighteners, and specialty tools (conditioning heat cap, 3-barrel waver, etc.).
Laila Ali Styling Tools are available here, $23-$50
Since I wear my hair natural, but occasionally straightened, I've tried the Ionic Styler Dryer ($29.99) and absolutely love it! I use it when I want to stretch my shrinkage and wear a variety of styles. Using only a medium heating setting, it dries my hair quickly and leaves it semi-straightened and shiny!
Not only do these tools get the job done, but they're also eye-catching! The sleek, purple design punches up the typical boring black models found with other brands.
Ali is a beautiful multi-talented woman who continues to prove that we BGs can do it all and look good while doing it!
What are some of your favorite styling tool brands?