Lupita Nyong'o, one of our favorite BGs, is covering the December issue of Glamour magazine.
The actress and Lanôme beauty ambassador, 31, is not only the magazine's cover girl, but is also named as the Woman of the Year by the popular glossy. The annual Women of the Year issue honors women who have made significant contributions to society throughout the year. In celebration of the issue, the magazine will host its 24th annual Women of the Year awards ceremony in New York City November on 10th.
Lupita talks to the Condé Nast title about her meteoric rise in Hollywood and how she uses her platform to help redefine success and beauty standards.
Here are a few quotes from the interview with the Oscar winner:
Nyong'o on winning an Academy Award earlier this year…
"I don't think I will ever be able to really articulate how bizarre it was to hear my name at the Academy Awards. I'd watched in my pajamas the year before! I felt numb—dazed and confused. I remember feeling light—weightless. More like limbo than cloud nine."
Nyong'o on how her life has changed after winning an Academy Award…
"This is actually a conversation I look forward to having in 10 years, when all of this is behind me and I have some real perspective on what happened—because right now I'm still adjusting. I guess I feel catapulted into a different place; I have a little whiplash…. I did have a dream to be an actress, but I didn't think about being famous. And I haven't yet figured out how to be a celebrity; that's something I'm learning, and I wish there were a course on how to handle it. I have to be aware that my kinesphere may be larger than I want it to be."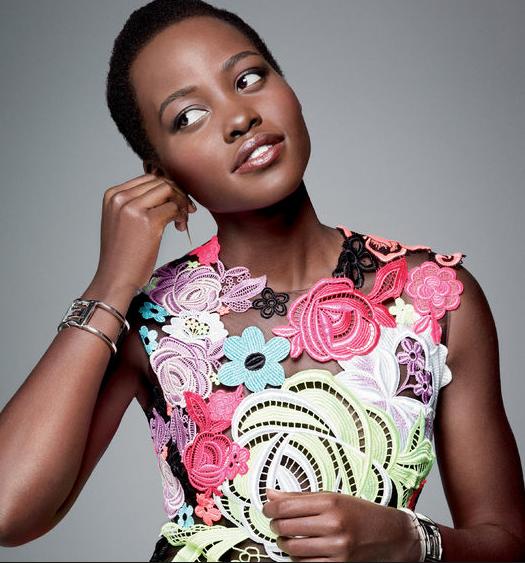 Nyong'o on the standards of beauty that she grew up with…
"European standards of beauty are something that plague the entire world—the idea that darker skin is not beautiful, that light skin is the key to success and love. Africa is no exception. When I was in the second grade, one of my teachers said, 'Where are you going to find a husband? How are you going to find someone darker than you?' I was mortified. I remember seeing a commercial where a woman goes for an interview and doesn't get the job. Then she puts a cream on her face to lighten her skin, and she gets the job! This is the message: that dark skin is unacceptable. I definitely wasn't hearing this from my immediate family—my mother never said anything to that effect—but the voices from the television are usually much louder than the voices of your parents."
Nyong'o on her role models growing up…
"Oprah played a big role in my understanding of what it meant to be female and to really step into your own power. I wouldn't even call her a role model; she was literally a reference point. You have the dictionary, you have the Bible, you have Oprah."
Nyong'o on her mother's influence…
"I come from a loving, supportive family, and my mother taught me that there are more valuable ways to achieve beauty than just through your external features. She was focused on compassion and respect, and those are the things that ended up translating to me as beauty. Beautiful people have many advantages, but so do friendly people.… I think beauty is an expression of love."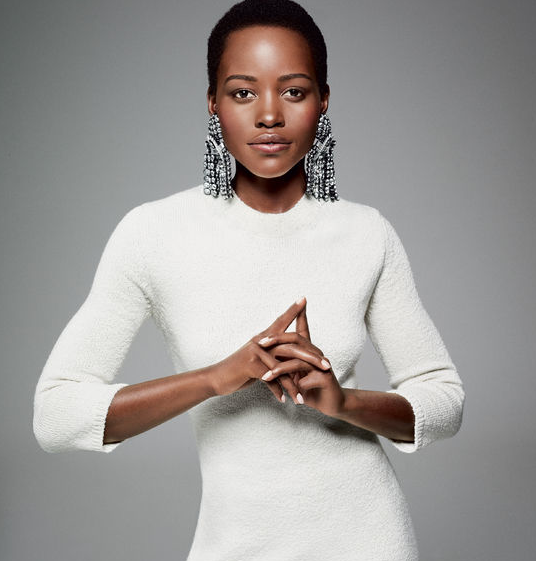 Nyong'o on "The Lupita Effect"…
"I've heard people talk about images in popular culture changing, and that makes me feel great, because it means that the little girl I was, once upon a time, has an image to instill in her that she is beautiful, that she is worthy—that she can… Until I saw people who looked like me, doing the things I wanted to, I wasn't so sure it was a possibility. Seeing Whoopi Goldberg and Oprah in The Color Purple, it dawned on me: 'Oh—I could be an actress!' We plant the seed of possibility."
For the full interview visit Glamour.com or be sure to pick up the December issue which hits newsstands November 11th.
Want to see more Lupita? Check out this behind-the-scenes footage from her cover shoot.What are your thoughts on the cover?