When it comes to quality products for curly hair, Miss Jessie's is at the top of the list—period!
Now the trailblazing textured hair care brand wants to share the heralding story about their rise to entrepreneurial success in the new book, "Miss Jessie's: Creating a Successful Business from Scratch—Naturally."  Written by Miss Jessie's co-founder and CEO Miko Branch with her beloved sister and business partner, Titi Branch whom passed away from suicide last December—the memoir/business guide is an awesome read for budding entrepreneurs and business owners of all kinds.
Although you can't help but think about Titi's devastating death while reading the tome, her creative free-spirit is felt throughout the pages. Chock full of business advice told in the form of the sisters' personal stories, the book gives readers an in-depth look into the trials and triumphs of being your own boss all while working alongside family.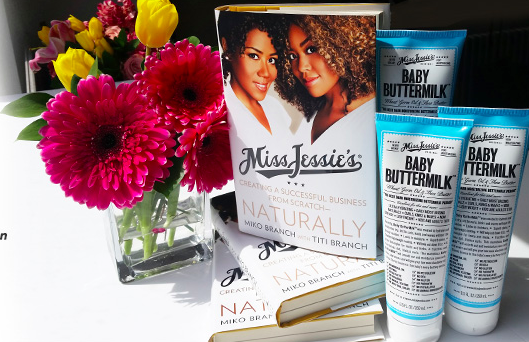 "Miss Jessies's: Creating a Successful Business from Scratch—Naturally" by Miko Branch with Titi Branch availalbe here, $18 
Beautiful, full-color photos of the sisters serve as a touching testament to the siblings' special bond. It  also includes personal photographs of the sister's paternal grandmother of whom the brand was named. The book is a true treasure for those of us who've followed the sisters' career and used their popular products. And for all of those people who've questioned how they turned their passion into a formidable business, now those inquiring minds have a very detailed guide that can help them make their business dreams come true too!
Reports suggest that the book was ready to be released earlier this year, but was pushed back as a result of Titi's untimely passing.  However, that unfortunate delay allowed Miko to include a heartfelt letter she penned as a moving tribute to her her big sister, Titi.
The duo has been creating sweet-smelling creams and concoctions to enhance curly locks since the 90s—and although Titi is no longer with us, it's pretty safe to say that there's no stopping Miss Jessie's! We're rooting for Miko to take the brand to even greater heights!
Have you purchased the new book? What's your favorite Miss Jessie's product?