I think it's safe to say that a large portion of the country is experiencing a pretty intense heat wave.
When temperatures reach the '90s and beyond, staying fresh and dry become even more of a top priority. That's why deodorants are crucial to maintaining our overall personal hygiene. As we attempt to beat the summer heat, our sweat glands produce a not-so-pleasant smell, which can be the pits (pun intended)!
Luckily, there's no shortage of antiperspirants to choose from—but unfortunately, we know that they're not all created equal. Staying with the tried and true brands can be a smart move. Secret has always been a staple in my bathroom. It's been at the forefront of the market for decades and for good reason.
Throughout the years they've mastered a formula that manages to keep underarm body odor at bay, while incorporating cutting-edge innovations to also keep us healthy and fresh.
Their latest offering, Secret Clinical Strength, has been my go-to for most of the summer. Its "Adapt & Respond" technology stops bacteria in its tracks reducing smelly sweat from even starting. It glides on easily and doesn't irritate my skin. Plus, it has a pleasant scent that isn't overpowering. It comes in three different forms: Clear Gel, Invisible Solid and Smooth Solid—but, Clear Gel is my summertime fave.
If you want to get in on the secret to staying dry and odor-free, definitely check out this new line of antiperspirants!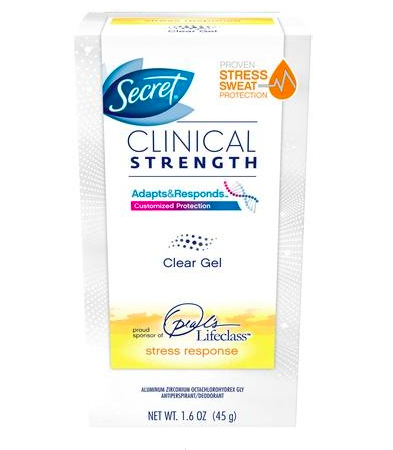 Secret Clinical Strength "Adapt & Responds" Clear Gel available here, $8.79
What's your go-to deodorant?