For those who don't follow me on Instagram (@browngirlgumbo), I just wanted to share some exciting news with you: I'm expecting my second child!
Yep, Ava is going to be a big sister and she couldn't be happier. In fact, we're all excited in the BGG household. It seems just like yesterday when I announced that I was expecting my first child on the site four years ago! Parenting is definitely the hardest job I've ever had, but it's by far the most satisfying and rewarding. However, this time around I've been much sicker and unable to post as frequently as I'd like, but I've since passed that hurdle. Now, I can't wait for our new addition and am counting down the days.
Last Saturday, I had a small "sprinkle" (that's what people are calling subsequent baby showers these days) in my backyard in Brooklyn. A few of my friends and family members were in attendance to celebrate our impending arrival. My dear friends over at Aveeno were kind enough to sponsor the gift bags for my guests, which included a daily moisturizer and my favorite sunscreen. It was a lovely occasion and I'm so grateful to have wonderful people in my life.
Surprisingly, in this day and age of creating digital memories, I didn't take many pictures. Luckily, I was able to salvage a collage out of the few photos I did manage to snap. Check it out below: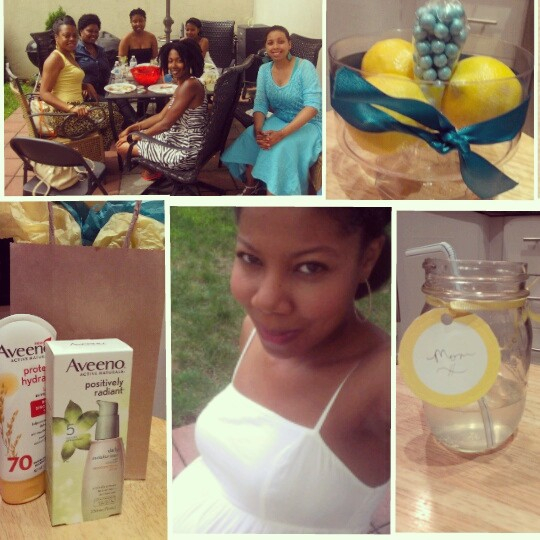 I never thought that I'd be anxiously awaiting the end of summer, but this year I am and for great reason! 🙂
Also, please be sure to follow me on Instagram @browngirlgumbo!!