You may have seen the commercials or perhaps the print ads in some of your  favorite magazines, but if you haven't already heard about Soft-Sheen Carson's newest haircare product line, Optimum Amla Legend Rejuvenating Ritual, read on!
An Indian beauty ritual for thousands of years, Amla oil is made from the Amla Superfruit, which is a powerful antioxidant rich in minerals and vitamins. Each of the products from this line is infused with the super conditioning ingredient and promises to protect  hair from heat damage and promote thicker, fuller hair.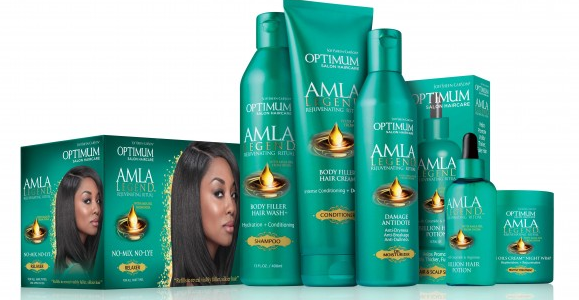 Amla Legend Rejuvenating Ritual available at drugstores nationwide starting at $5.99
The entire collection includes the following: Body Filler Hair Wash Shampoo, Body Filler Hair Cream Conditioner, Damage Anti-Dote Oil Moisturizer, 1001 Oils Cream Night Wrap, Billion Hair Potion and a No-Mix, No-Lye Cream Relaxer.
So far, I've only tried the Billion Hair Potion, which is a hair and scalp serum. Since I'm sensitive to overwhelming scents, I was afraid that this oil would be one of them. To my surprise, it's almost fragrance-free! I've used it several times and I see why Indian women have been using it for centuries. It instantly gave my hair a sheen without being too greasy and combatted the dryness that always creeps along my hairline. If this product is any indication of what the other items in this line, I'll definitely check them out!
Plus, this line has been endorsed by First Lady Michelle Obama's highly-sought after hairstylist, Johnny Wright. Need I say more?
Have you tried any products from this line yet?