Think you know the story of Cinderella? Think again.
New York City Children's Theater's latest production, "Interstellar Cinderella," based on a book of the same title by Deborah Underwood, puts a fresh, new twist on the classic Disney tale.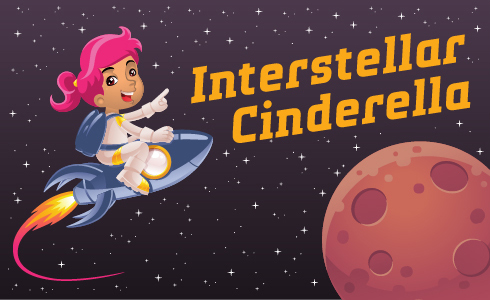 Set in 3017, "Interstellar Cinderella" takes theatergoers on a far-out ride into the future where Cinderella is a beautiful, self-assured science and tech-savvy space engineer in the making. Like the original, Cinderella still wants to escape the wrath of her evil stepsisters and hateful stepmother, but this time around, it's not a Prince Charming she's after—it's independence and an opportunity to make her dreams come true.
Good with her hands, Cinderella, portrayed by Meadow Tien Nguy, has a knack for fixing things and coming up with out-of-this-world inventions—namely, a warp-speed rocket engine. After learning of a space parade hosted by the prince, she knows that it's an opportunity she can't miss—and thanks to a two-headed fairy godmother she doesn't.
While at the ball, her ability to fix the prince's rocket ship catches his eye and the quintessential fairy tale unfolds.
Directed by Marty Johnson, "Interstellar Cinderella," emphasizes girl power throughout the STEM-centric production, which is refreshing and inspiring for young audiences, especially young girls. Plus, with music by Laurie Berkner, the famed children's composer and former preschool teacher—the 50-minute musical is spellbinding and keeps everyone grooving along in their seats. "This is the best thing I've worked on today," says Berkner of her participation in the production. "
Also, all of the characters bring something unique to the performance and showcases the actors' remarkable talents.
If you're looking for a funny, modern show that's entertaining from start to finish, don't miss out! Get your tickets for "Interstellar Cinderella" at the Beckett Theatre today.
What's your all-time favorite fairy tale?