Although October is almost over, I'd be remiss if I didn't acknowledge National Breast Cancer Awareness Month.
This disease has devastated my family, which is why I feel compelled to raise as much awareness about it as possible. Despite losing several aunts to the disease, I know that it doesn't have to be a death sentence. Thanks to early detection, my sister is living proof that you can be a survivor!
That's why I wholeheartedly appreciate and support companies and brands who donate portions of their proceeds (from certain products) during this month to help raise funds towards finding a cure.
Instead of only giving back during the month of October, Palmer's, the popular cocoa butter line will donate 15% of the sales prices (with a minimum of $100,000) from specially-marked bottles of its core Cocoa Butter Formula products to Susan G. Komen from now until June 2015!
I've been a huge fan of Palmer's for years, but the fact that they're going pink and donating funds well beyond October makes the brand even more appealing.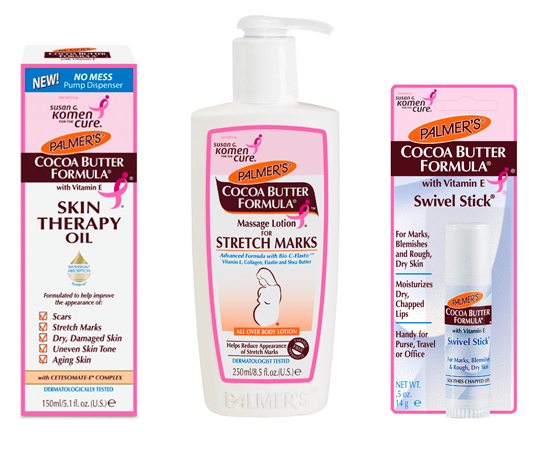 Palmer's is available at most drugstores nationwide
**For more information on breast cancer, please click here.
Have you purchased "pink" products this month? Have you been personally affected by breast cancer?