When it comes to toxins, big cities like NYC, L.A. and Chicago can produce some pretty nasty pollutants.
Countless emissions emitted into the air by vehicles, factories and other chemical-spewing culprits can wreak havoc on vulnerable skin.  In fact, research shows that dirt and potentially hazardous vapors can clog pores causing breakouts and skin irritations.
Enter Clinique's City Block Purifying Charcoal Cleansing Gel. This is not your typical cleanser. To start, it's black as tar, which makes it fascinating and jarring at first glance. Formulated with us city girls in mind, it promises to clean out the dirt, grime and other impurities that seep into our pores on a daily basis.
Living in a major metropolis and being a cystic acne sufferer, I was excited to give this wash a go. Never before had I used a product that aimed to rid my skin of grit expelled from the environment. To say I was intrigued would be an understatement.  Could the environment be the cause of the headless pimples that peppered my forehead? I don't know, but I was willing to try anything that could possibly combat my condition.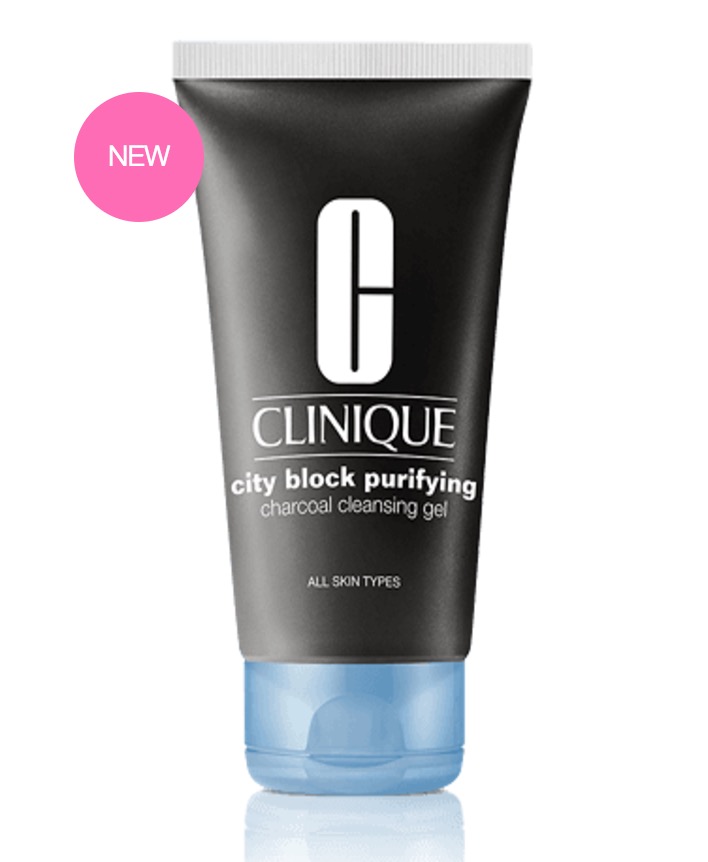 Clinique City Block Purifying Charcoal Cleansing Gel available here, $20
After weeks of using the fragrance-free, natural charcoal infused cleanser, my skin looked undeniably refreshed and radiant. It also rectified my "ever-present dewy glow" problem by reducing excess oil production. However, it didn't stop those pesky and painful cysts from popping up. And remember, these are not simple, surface pimples, but the heavy duty ones you can feel brewing well beneath the skin. Sadly, I've come to the conclusion that those unsightly nodules are due to hormones and can't be treated topically.
While the bumps eventually go down, they still leave behind dark blemishes that can take a toll on the most confident BG's self-esteem. Luckily, Clinique's Even Better Clinical Dark Spot Corrector & Optimizer has been my saving grace. Its dual chamber pump releases a serum that brightens old blemishes creating a vibrant, even complexion. It goes on clear, absorbs quickly and  doesn't live behind a sticky film. Also, the optimizer component serves as a protector, lessening the chance of skin darkening again in the future. Plus, it's prescription-strength so you can skip that expensive trip to the dermatologist. I've been using it as directed twice a day for over a month and the results have been amazing!
Clinique Even Better Dark Spot Corrector & Optimizer available here, $79
All in all, I'll continue to use the City Block because it keeps the majority of my skin in check save for the occasional cysts and the Even Better Dark Spot Corrector & Optimizer is a must-have for anyone who suffers from hyper-pigmentation and yearns for bright, even-toned skin.
Take it from this city girl, when it comes to skincare, Clinique knows its stuff.
What does your fall skincare routine include?