If you're on the market for a good facial and body cleansing brush without breaking the bank, keep reading.
Last month, I was asked to review Spa Sonic's Skin Care System Face & Body Polisher 7-piece offering of the popular pampering tool. Unlike other brands, this particular brush includes interchangeable heads for usage on your face, body and even feet!
Although I was unfamiliar with the brand, I was excited to give it a try. Prior to testing the Spa Sonic, I'd only used more expensive brands that boasted many of the same features, but didn't include multiple heads. That's why for a fraction of the price, I was anxious to see if it would work as well as the luxe brands.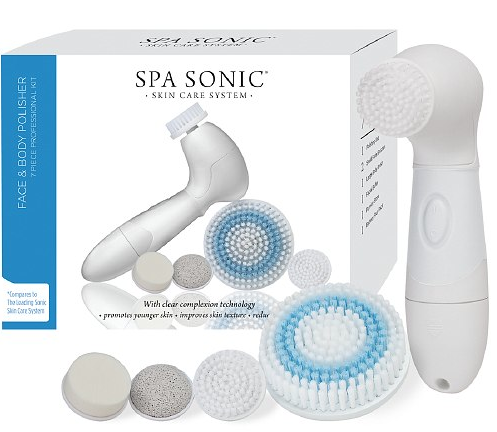 Spa Sonic Skincare System Face & Body Polisher available here, $40
My first impression upon opening the box was not good. To be honest, the packaging was a bit flimsy and cheap for lack of a better word. Luckily, I didn't let that stop me from giving it a spin. First up, I attached the small brush for my face. The bristles were softer than I'm used to, but still seemed to slough away dead skin. Pleased with the results, I was happy to move on to my body. The large brush worked beautifully leaving my skin incredibly softer. The only downside was that I couldn't apply too much pressure otherwise the interchangeable head would come off. Next up: feet!
Since bi-weekly pedicure season has passed (for me at least), my heels were in desperate need of some TLC. The pumice stone attachment delivered just enough power to polish my feet effortlessly. The rotating stone nicked away stubborn callouses revealing a smoother surface.
For the affordable price and the perks of multi-usage, it's a great alternative to more expensive facial and body cleansing tools.
Do you use face/body/feet cleansing brushes?