I can't believe it's taken me so long to embrace the whole natural coconut craze.
My fellow naturalistas and bloggers have been buzzing about it for a while, but now I'm finally boarding the bandwagon—better late than never!
For the past week, I've been using Vita Coco Coconut Oil on my super dry, brittle hair and haven't been this pleased with a product since…I can't even remember! This 100% raw, pure organic, cold press coconut oil has been a savior to my moisture-starved hair. It coats my kinks and curls without making them feel overly greasy or sticky. Plus, it doesn't seem to create that nasty build-up that other moisturizers produce.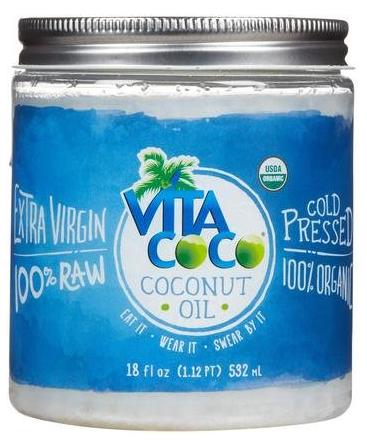 Vita Coco Coconut Oil available here, $9.99
And if you're wondering about the smell, you guessed it—it smells downright heavenly. The scent is so tantalizing that my 4-year-old daughter asked if she could taste some. To her complete and utter shock, I said, "yes," because the chunky wonder oil can be used for cooking or as a dietary supplement. While she wasn't exactly anxious to eat more than a smidgen, it was quite refreshing to use something on our hair that's actually edible. Also, as if this oil couldn't get any better, it even soothes my eczema and winter-ridden skin! There are plenty of products and lotions that I like, but can't use frequently due to my sensitive skin.
If you're looking for a rich, multi-purpose oil this is IT!
Are you a fan of coconut oil? What's your swear-by moisturizer?