Last week I had the pleasure of attending a press breakfast hosted by SoftSheen-Carson to celebrate the launch of its latest Professional Hair Care Treatment: Hydra Steam Moisturizing System, at the L'Oreal headquarters here in New York City.
Johnny Wright, SoftSheen-Carson Artistic Style Director and stylist to none other than the First Lady  Michelle Obama, gave us bloggers and editors a detailed overview of the line as we munched on scrumptious egg pies and sipped the event's signature blueberry smoothies.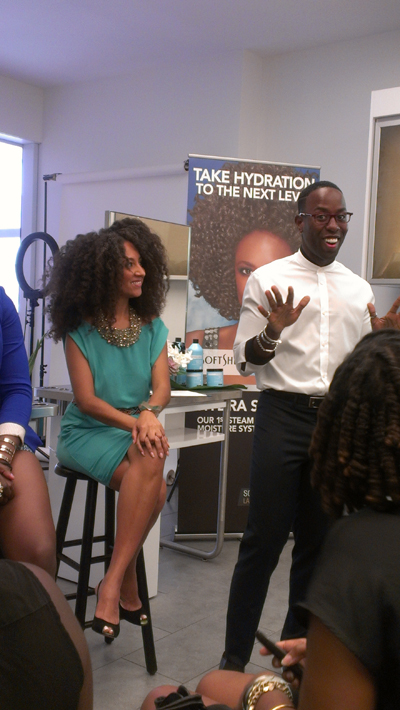 Johnny Wright, SoftSheen-Carson Artistic Style Director and celebrity stylist, telling attendees about the benefits of using the Hydra Steam System.
Created for all hair types, this system, which consists of six products is especially great for us naturalistas. Thanks to its revolutionary steam-activated technology that's infused with Aloe Vera, it seals in moisture that our tresses crave. In addition to intense hydration, the line promotes curl definition, combats frizz and prevents breakage.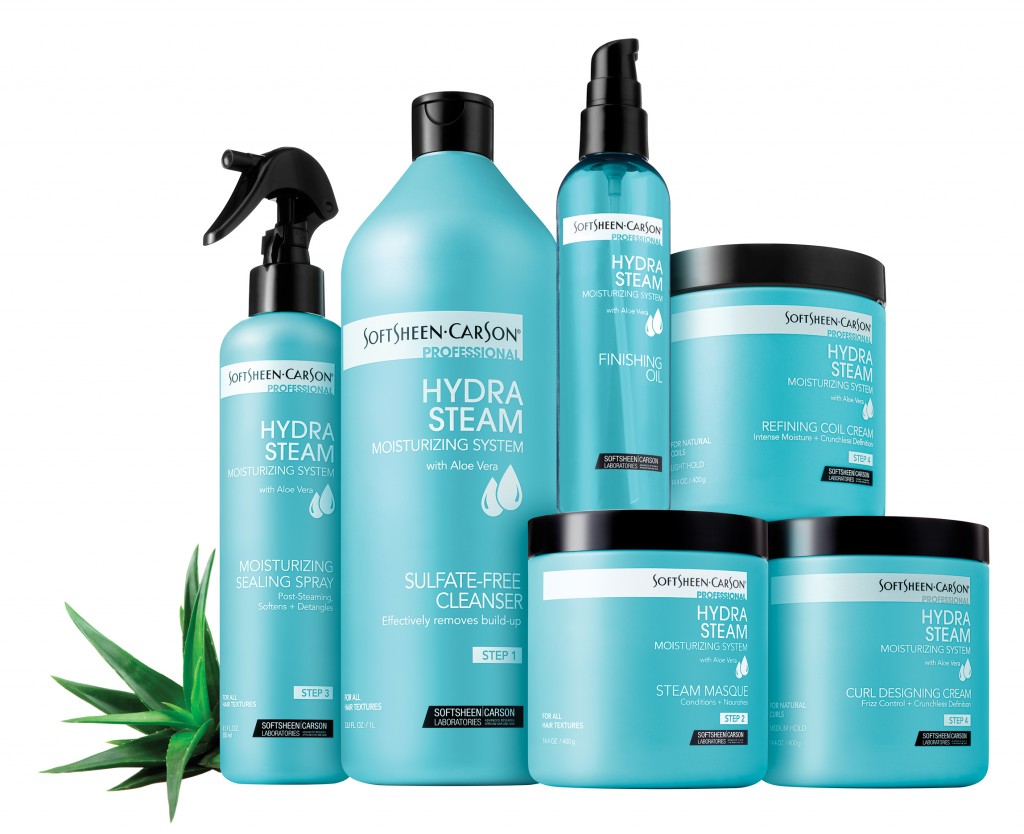 SoftSheen-Carson Hydra System Moisturizing System includes: Sulfate-Free Cleanser, Steam Masque, Curl Designing Cream, Refining Coil Cream, Moisturizing Sealing Spray and Finishing Oil is available at Sally's Beauty, prices start at $12.99
"Steam treatments hydrate hair 5 times more effectively than using a conditioner alone. They infuse moisture to hair and gently open hair cuticles to allow conditioners to penetrate deeper," says Wright. 
Obviously since the line is brand new, none of us in attendance had tried it, but we were  able to see the results on two beautiful models with different hair textures, one of whom was the thrifty fashionista, Afroista (I'm sure you guys are following her on Instagram. If you aren't, you should be!). The model on the left has a tighter curl pattern similar to my own. Therefore, Wright used the Refining Coil Cream because it softens and provides low hold, as opposed to looser curl patterns that require more hold such as the model's on the right. For her, Wright used the Curl Designing Cream, which helps define and elongate curls.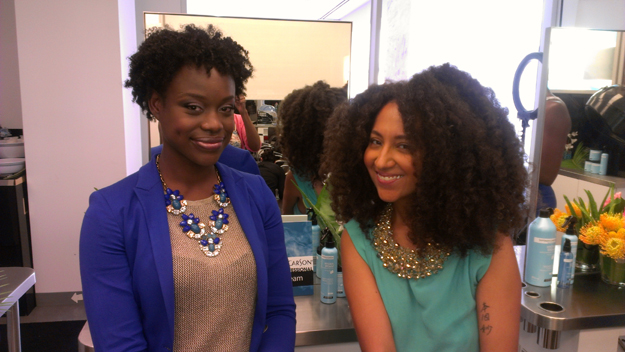 Models (Afroista is on the right) showcasing their Hydra Steam System-treated hair. 
With the word "steam" in the name, it's pretty clear that a hair steamer is encouraged for this particular treatment. I honestly have never used a steamer before, but was happy to learn that I can easily replicate the effect of one by using a conditioning cap or steaming hot towel. Although this product line is designed for professional use, it can still be easily used at home too.
I can't wait to test this line because my hair is beyond dry and brittle. Plus, I'm still suffering from post-partum breakage since having my son last fall. Hopefully, the Hydra System will be just what my parched locks need.
*FUN FACT: Johnny Wright divulged that FLOTUS is in fact natural and he's in the process of convincing her to wear her natural curls soon!
Do you use steam treatments? How do you keep your hair hydrated?