Last weekend I was honored to have been selected to attend the 8th Annual Blogging While Brown conference in Austin, TX on behalf of AT&T.
I served as a blogger correspondent to help spread the word about their Inspired Mobility campaign—a conversation about how people are using Internet and mobile technology to enhance their inspirational experience. Since I use mobile technology on a daily basis to complement my faith and beliefs, being a part of this initiative was a no-brainer. Many people are now using their phones to stay connected to their spirituality whether that's through apps, streaming, podcasts or other mobile platforms. In fact, in a recent survey sponsored by AT&T, 4-in-10 (41%) respondents said they use a mobile phone, tablet or laptop to connect to faith-based organizations or inspiration sites.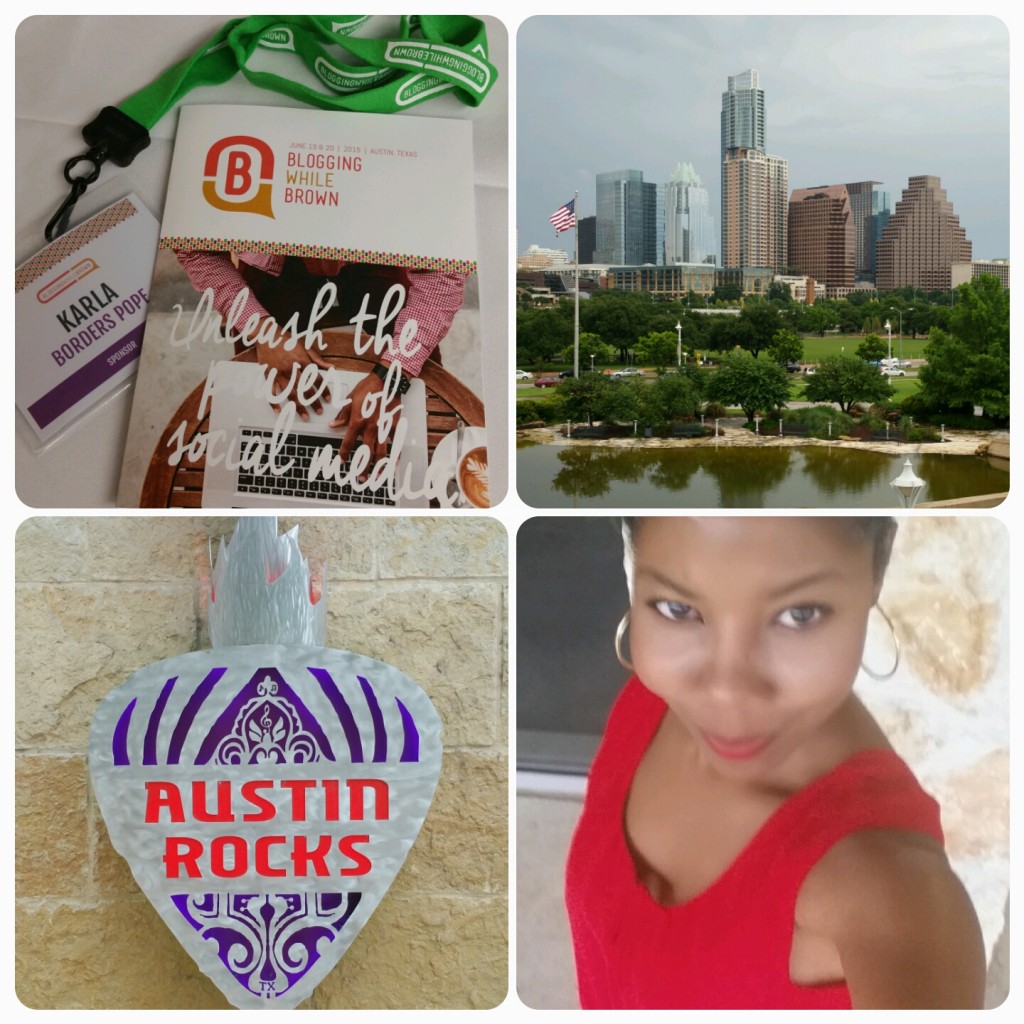 Prior to my trip I was giddy with excitement. I'd never visited Austin so being able to experience a new city is always exciting. Plus, I enjoyed last year's conference—being around fellow bloggers who look like me is always inspiring. And, not to mention the lineup of speakers was outstanding. However,  all of my anticipation and happiness was completely sucked out of me after learning about the hate-induced church massacre that occurred in Charleston, SC only hours before my departure from NYC. Due to the unfortunate and sensitive circumstances, out of respect for the families and everyone affected by the tragedy—AT&T decided to forgo their big announcement during the opening remarks. Instead, Laura Hernandez, AT&T's Multi-Cultural Executive Director gave attendees an overview of the campaign and key messages.
Despite the initial somber undertone of the event, the mood slightly shifted and we attendees were eager to get the scoop on how to improve our blogs, etc. Throughout the morning and early afternoon I sat in on sessions about finding your niche and podcasting. The highlight of the day was of course AT&T's Q&A with Grammy award-winning gospel rapper, Lecrae. Conducted by iChurch Method founder, Jason Caston, the candid conversation was funny, inspiring and relatable. Right before the Q&A started, we were asked to take a moment of silence for the Charleston church massacre. I thought taking that time to honor them was respectful and very appropriate. Once the Q&A was underway, Lecrae spoke about how he uses the Internet and mobile technology to stay connected to his family while touring. "My family is my priority," he said. "So, staying in touch with them via mobile technology while on the road is important," he said.
On Day 2, the conference was packed with back-to-back sessions. The day kicked off with the keynote, the super hilarious and wildly successful husband/wife duo—Lamar and Ronnie Tyler of the popular website, Black and Married with Kids. They gave incredibly valuable info on how they turned their blog into a million dollar business. Oftentimes, individuals who reach their level of financial success rarely share how they got there in detail and with actual figures! Their informative and high-energy session set the tone for the rest of the day. Next up, I sat in on Chip Dizard's vlogging session. Since I've been dragging my feet on video blogging, this session was one that I looked forward to attending. It definitely lived up to my expectations because he gave us a comprehensive overview of how with a few simple steps we can take our typical blog into the vlogosphere!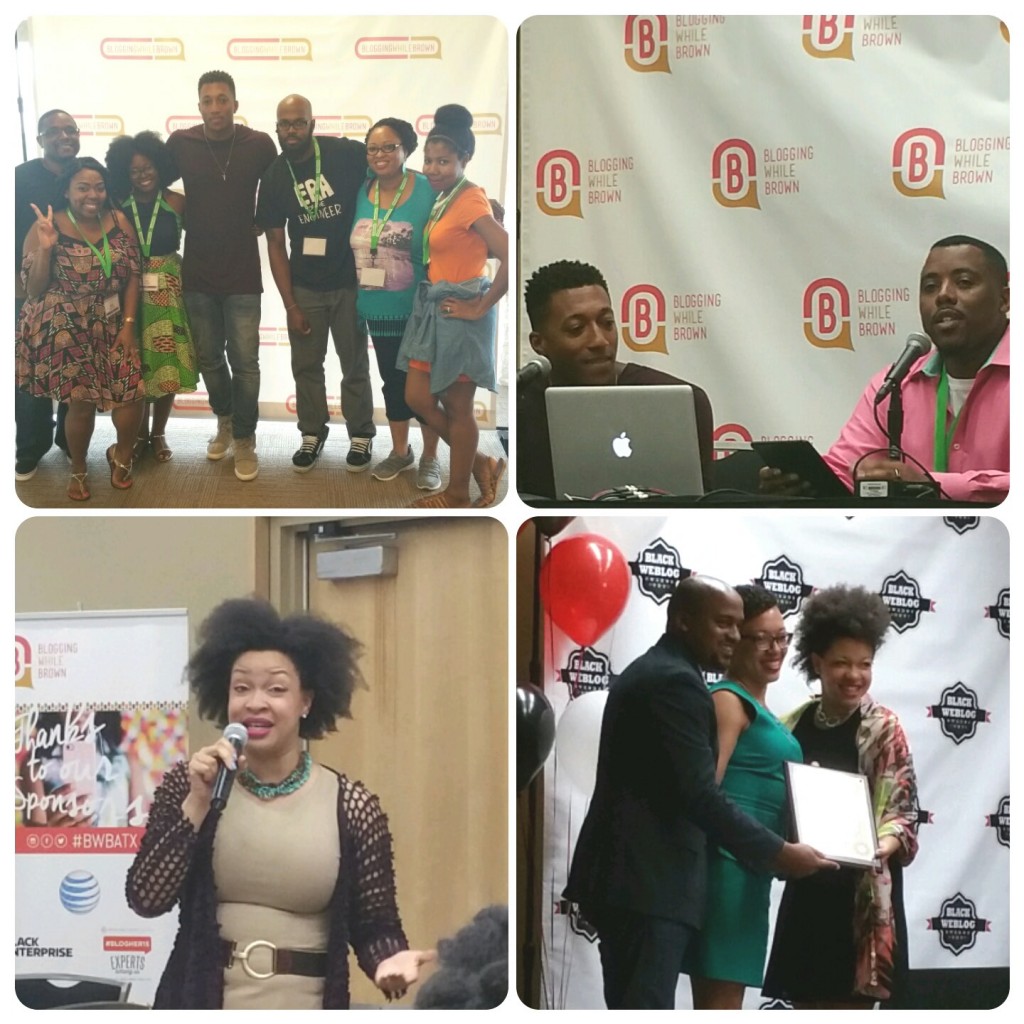 Clockwise from top left: Me and a few of the other AT&T bloggers with Lecrae, Lecrae and Jason Caston, L. Michelle Smith, AT&T's Diversity & Communications Director; Blogger of the Year winners, Lamar & Ronnie Tyler (Black and Married with Kids) with L. Michelle Smith.
The 2-day conference ended on a high note with the 10th Annual Weblog Awards. Recipients of the esteemed honor included: Black and Married with Kids (who won the Blogger of the Year Award), Black Girls Who Blog and a host of other noteworthy blogs. We networked, ate and danced the night away—fun times indeed.
Oh, and during the downtime in between sessions, I was able to get out and explore the city. Austin is lovely and the people were friendly. Although they're known for their barbecue, I didn't have any. But, I did enjoy a couple of fish tacos!
Overall, it was a weekend to remember. It's always a pleasure to partner with brands and campaigns that encourage growth and innovation. They're certainly at the forefront of bridging the gap between faith and mobile technology.
*I received travel and hotel accommodations, as well as entry into the conference on behalf of AT&T. All opinions expressed here are my own.  
What's your favorite app for inspirational quotes or spiritual teachings?