Being a parent of two children under the age of 5, I'm pretty familiar with Sprout. If you're not, it's a 24-hour cable TV channel that caters to the toddler and preschool set.
This Saturday, July 12th, the 9 year old NBC-owned network is premiering its original animated series, "Astroblast!"
"Astroblast!" premieres Saturday, July 12 at 1pm & 8pm EST on Sprout. The series will continue airing daily during "The Sunny Side Up Show" and "The Good Night Show."
Co-produced by the children's book publishing powerhouse, Scholastic Media, "Astroblast!" aims to entertain while educating kids. With a cast of animal characters, the series imparts important messages about how to embrace differences, model positive relationships and foster healthy eating habits all while taking viewers on exciting adventures in outer space.
My daughter has been anticipating the launch of the space-themed show for weeks. That's why I was beyond thrilled when we were invited to attend a sneak peek of the series at the super cute restaurant, The Sugar Factory here in New York.
I was happy that Ava would get to see some of the show before its debut and I was excited to finally visit The Sugar Factory. For those who are familiar with my blog know that I am candy obsessed; so a trip to the sweets-centric hotspot was like a little slice of heaven for me.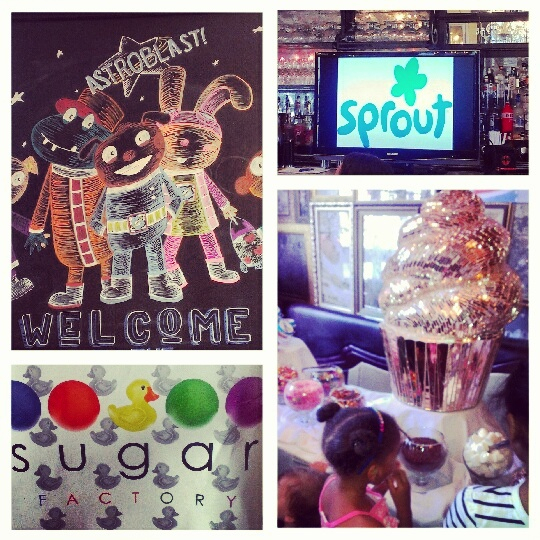 We watched a snippet of the show as we noshed on fried mac-n-cheese balls, mini burgers, chicken fingers, french fries and other yummy kid-friendly fare. Plus, there were fruit smoothies specially made as a nod to one of the ongoing themes of the show. And, of course there were sweet treats galore. From an ice cream sundae bar with every topping imaginable to chocolate fondue to unlimited candies of all kinds, The Sugar Factory definitely lived up to its name.
If your kids are into fun-loving space creatures, "Astroblast!" is a must-see. Oh, and if you're looking for a restaurant to take your kids on a weekend afternoon or maybe a sweet date night with your guy, The Sugar Factory is a great choice.
In addition, to celebrate the series' launch, there will be "Astroblast! Space Camp Tour." Free and open to the public, the tour will offer kids and families the opportunity to participate in an exciting interactive space experience complete with activities and games in the spirit of the series.
Here are the remaining tour dates:
Denver, CO on Saturday, July 12
Phoenix, AZ on Saturday, July 19
Los Angeles, CA on Saturday, July 26 and Sunday, July 27
San Diego, CA on Saturday, August 2
For more information visit: www.sproutonline.com.
Don't forget to tune in Saturday. We'll be watching!
Do your children watch the Sprout network? What was your favorite cartoon growing up?