The holiday shopping season is upon us. That means two things: shopping and more shopping! For those looking for the best deals, Target, is going to make your season especially bright. For the first time in the store's history, they're offering a new online price match policy.
Meaning, they're offering customers the ability to match select online competitors' prices in its stores now until Dec. 16. Qualifying online retailers include Amazon.com, Walmart.com, BestBuy.com and Toysrus.com. And if that news didn't bring enough holiday cheer to your ears, the Minneapolis-based retailer has also extended the timeframe for the policy, including Target.com. If a customer purchases a qualifying item at Target stores now until  Dec. 24, and then finds it for less at Target.com or in a local competitor's printed ad, Target will match that price.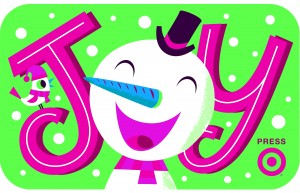 Not that I ever need an excuse to shop at Target, but this policy is definitely a plus!
When will you start your holiday shopping?