It's hard to believe that my baby girl, Ava, will be starting preschool in a few short weeks.
Like many moms, there are plenty of errands that I need to do in preparation for her big day. From shopping for school supplies to updating her wardrobe, my checklist seems to be endless. While those tasks are priorities, scheduling an appointment with her eye doctor tops the list.
Last month, I attended an event hosted by The Eye Solution/Kids Vision for Life where I learned more about the importance of good eye health. We all know that children need to visit their pediatricians annually, but oftentimes we parents forget to get our little one's eyes checked out too. Oh, and those quick "eye exams" during routine physicals don't count.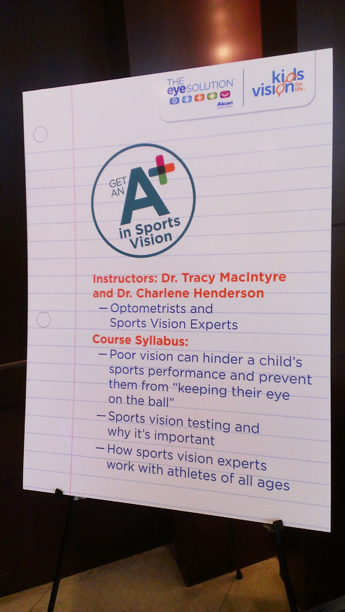 During the event, I spoke with several experts and learned that this oversight (no pun intended) can lead to mislabeling in school, which can ultimately have avoidable negative effects on students.
For example, a child may not be able to see the blackboard/whiteboard in class and will subsequently say the wrong answer simply because he's suffering from vision problems. Initially, teachers or parents may conclude that the child is having academic challenges when in fact all he needs is a pair of glasses.
Being an '80's baby who grew up watching the popular '90's TV show, "Beverly Hills, 90210," I was pleased to know that actress Jennie Garth, is teaming up with The Eye Solution to launch the "Get An A+ in Eye Care" campaign, a program that inspires people to help provide good eye health and vision correction for children (ages 5-12) in need across the U.S. The campaign is simple: see good, share good, and make good happen.
Plus, there's a social media component that encourages people to "like" The Eye Solution on Facebook to help give back." For every "like" on The Eye Solution Facebook page, (Alcon) will donate $1 up to $50,000 to help fund more than 1000 eye exams and eyeglasses for underserved children across the country.
Remember, our children's vision health is incredibly important to their overall well-being and academic success. Don't forget to make time for them to see an eye doctor annually after the age of 3.
Check out these Eye-Opening Facts from Kids Vision For Life:
*1 out of 4 children in the U.S has a vision problem significant enough to affect learning
*80% of learning in a child's first 12 years comes through his eyes
*25% of all school children in the U.S have a vision problem significant enough to affect learning
*90% of children who need glasses do not have them
*44% of parents are not aware that behavioral problems can be an indication that a child's vision is impaired
 **GIVEAWAY**In celebration of Back-to-School season, I'm giving away a gift bag filled with eye care goodies for the whole family. Simply leave a comment below and a winner will be randomly selected and announced next Monday, August 18th. This giveaway is open to U.S residents only. 
If you have a school-aged child at home, do you schedule annual eye exams for him/her?