A few weeks ago, I came across an article in PEOPLE magazine's "Most Beautiful" issue that caught my eye. No, it wasn't the piece on the stunning cover girl (Lupita Nyong'o) that grabbed my attention, but a spread featuring five celebrity women (Pink, Dania Ramirez, Stacy Keibler, Rachel Leigh Cook, and Laura Prepon) with one thing in common—their age, 34.
Since turning 34 less than two weeks ago, the article and its accompanying photographs were especially timely, inspiring and relatable for me.
According to the piece, a recent study suggests that thirty-four is the age when women feel the best about their bodies.
Seeing my fellow 34-year-old counterparts baring their bodies in celebration of their feminine confidence was refreshing. Admittedly, I've struggled with self-image issues like many women throughout the years. But, after birthing two babies I have never been so content with my body. While I'm aware that I need to exercise more to maintain a healthy lifestyle, I no longer beat myself up over certain physical shortcomings.
I'm not sure if I came to this acceptance and appreciation for my body simply because I have two children, one of which was born less than a year ago, or the fact that I'm 34 and finally coming into my own.  Actually, I'm sure this mind shift can be attributed more to being a mom the second time around. Watching your body transform and ultimately perform its greatest task is nothing short of amazing.
No matter what the underlying reason is for my newfound confidence, I'm going to cherish every minute of it because 35 is right around the corner!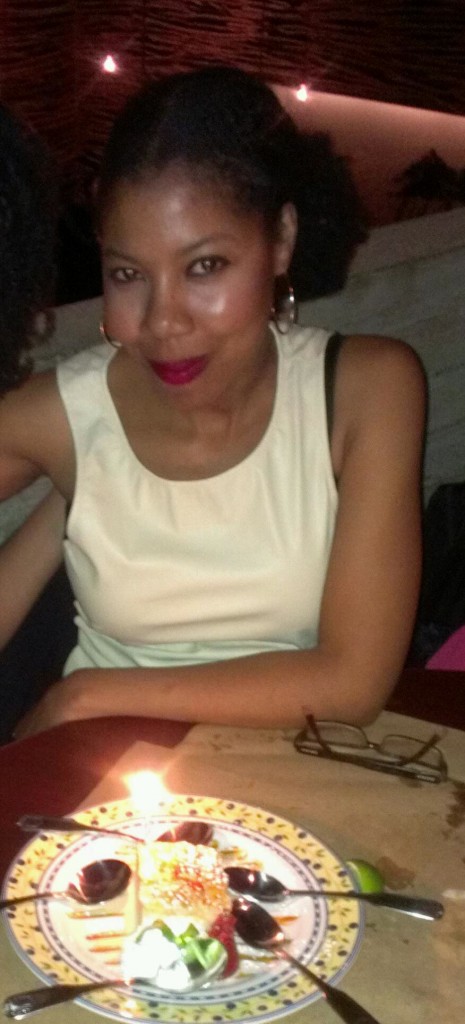 Me celebrating my 34th birthday with friends at Pio Pio in Manhattan. By the way, I'm wearing Too Faced's "Melted" lip color in ruby that I wrote about last week.
Are you completely content with your body? If you're over 30, were you happier with your body in your 20s?