This holiday season, ditch typical desserts like fruitcakes and pies and swap them with treats that are sure to pop. Popcornopolis' gourmet popcorn options are the perfect hassle-free sweets that will satisfy guests while leaving you with more time to mingle.

Popcornopolis Zebra is available at a variety of west coast retailers including: Safeway, Bristol Farm's, Von's and is also nationwide at Publix and Walmart.
The brand's new Zebra line is comprised of crunchy, chocolatey kernels of goodness that are also guilt-free. With no artificial colors, flavors or preservatives, surprisingly this gluten-free snack doesn't compromise taste. Developed by the company's Cordon Bleu-trained chef, each of the five new flavors (Chocolate Stripe, Chocolate Peanut Butter, White Chocolate Macadamia, Chocolate Candy Cane and White Chocolate Pumpkin Spice) are coated in delectable caramel and drizzled in chocolate, creating a combo that confectionery popcorn lovers crave.
From peanut butter to pumpkin spice, the new lineup has something for everyone on your holiday dinner guest list. As a dark chocolate and peppermint fan, the Chocolate Candy Cane is my favorite of the bunch. Its irresistible richness is complemented by the refreshing minty flavor, making a party in my mouth with every bite.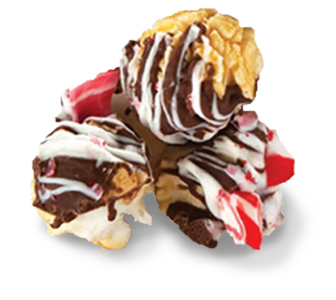 Chocolate Candy Cane
If you're looking for a wholesome, tasty and convenient dessert to serve at your holiday shindig, look no further than Popcornopolis. Pop open a bag and pour into decorative bowls for a festive cornucopia of delicious popcorn. If your guests don't devour every kernel (we highly doubt that will be the case), don't fret, the convenient re-sealable bag makes storing simple and easy.
Go ahead, give yourself the gift of time by serving a sweet snack this holiday season that doesn't require any prep!
Which flavor from the new line are you the most excited to try? **GIVEAWAY**One lucky reader will get the chance to try them all!  I'm giving away the entire new Zebra line. Simply leave a comment or tweet me with your popcorn preference and a winner will be randomly selected and notified via email by November 27th. This contest is only open to U.S. residents.