Yesterday would've been Tupac (2Pac) Shakur's 43rd birthday.
It's hard to believe that I was only 16 when the iconic rapper, poet, activist and actor was shot and killed in Las Vegas. Fast forward 18 years and fans like me are still being captivated by his prolific lyrics. This time not just on our iPods, but on Broadway.
This past Saturday I was invited to see, "Holler If Ya Hear Me," a musical inspired by the late rapper's lyrics. Being that I've been a fan of Tupac's music since I was a teen, I was excited to see the show. Admittedly,  at first I was a bit hesitant when I saw the commercial featuring the show's star, Saul Williams. Initially, I thought the musical was going to be about Tupac's life; so I felt Williams was an interesting choice to play the part. Luckily, prior to the show I did my research and realized that the show wouldn't be based on Tupac at all, just his lyrics.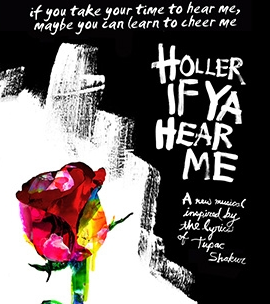 Directed by Kenny Leon, the man behind Broadway's hit "Motown," "Holler If Ya Hear Me," is an all too familiar story—a man (Williams) tempted to go back to a life of crime after the death of a friend cut down by gun violence. The story also includes sub-plots about family, love, change, race, hope and friendship. While the storyline may have been a bit average, the way in which the plot weaved in with some of his greatest songs was nothing short of brilliant.
Fans of Tupac know just how versatile his work was and the show exemplified that talent. With songs such as "Keep Ya Head Up," "Dear Mama," and "Life Goes On," viewers who may have been unfamiliar with his lyrics were given a glimpse into his inspiring mindset. While lyrics from "Hail Mary" and "If I Die 2night" provided a look into his more emotional, darker side. And, his political and even light-hearted views were showcased in songs like the show's namesake, "Holler If Ya Hear Me" and the playful, "I Get Around."
Broadway veteran actress Tonya Pinkins, along with the show's leads: Saul Williams, Christopher Jackson, Saycon Sengbloh, as well as the supporting cast were incredibly charismatic and energetic making the show entertaining from start to finish. At times, it felt like a concert!
Although we'll never know if  Tupac would've approved of his work being featured on the Great White Way, we can rest assured that his mom, Afeni Shakur, gives it her stamp of approval since she serves as one of the show's producers.
The show is a great testament to just how much of a cultural influence and impact his music had on an entire generation. Mesmerizing performances and legendary music make "Holler If Ya Hear Me," a must-see for those looking to take a nostalgic trip back in time when Tupac's music reigned supreme; to me, it still does.
"Holler If Ya Hear Me," is currently in previews and officially opens June 19 at the Palace Theater in New York City. Tickets are on sale  here!
Have you seen "Holler If Ya Hear Me?" If so, what are your thoughts? If not, what's your favorite Tupac song?