If you've been reading my blog for a while, you know how much I love all things Dove. Well, the brand's Beauty Finish Dry Spray antiperspirant deodorant is no different.
I've always used roll-on or stick antiperspirants, but had never given sprays a try. Boy, have I been missing out! It's so easy to use and it smells so good! Typically, deodorant scents start to bother me after a while, but surprisingly the fruity & floral fragrance doesn't aggravate me at all. It keeps me dry and works up to 48 hours. Since I shower daily and sometimes twice a day, I haven't been able to find out if that selling point rings true. But, I'm sure it does because Dove always exceeds expectations.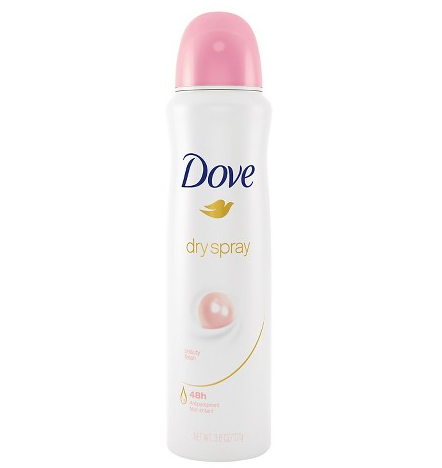 Dove Beauty Finish Dry Spray available here, $5.49
Also, since I suffer from extremely sensitive skin (especially my underarms) this spray doesn't irritate me at all. Again, that's because Dove formulates their products with those with sensitive skin in mind. Plus, did I mention how it goes on dry and doesn't create that unpleasant residue? One day I was in such a rush that I threw on a gray top and got a bit of the spray on it. Within seconds it was completely dry and no trace of it was in sight!
If you want to stay dry and smelling fresh all day long, give Dove's Beauty Finish Dry Spray a go. Be prepared to never go back to sticks or roll-ons!
What's your favorite antiperspirant/deodorant?