When it comes to dance in this country, one name comes to mind: Alvin Ailey. This past Saturday, my daughter and I had the opportunity to see the iconic Alvin Ailey American Dance Theater company perform live at the New York City Center.
For more than five decades, the esteemed African-American dance enterprise has graced stages in front of more than 25 million people at theaters in 48 states and 71 countries on six continents—as well as millions who've witnessed their masterful artistry through television broadcasts, film screenings and countless online platforms.
So, to finally see the AAADT up close and personal with my 7-year-old daughter was an experience I won't soon forget. Saturday's show was part of the company's Family Matinee series, which aims to get more families out to experience the beauty of the AAADT during the holiday season.
Divided into three acts with two 15-minute intermissions, the show opened with "r-Evolution, Dream" an enthralling piece inspired by the speeches and sermons of civil rights leader Martin Luther King Jr. Led by Hope Boykin, veteran Ailey dancer — the Civil Rights era came to life through a mesmerizing ensemble that didn't miss a beat. Through fluid movement and awe-inspiring narration by Tony award winner Leslie Odom Jr., the piece delved into Dr. King's exceptional and unyielding message of unity during one of America's darkest, yet most constructive times.
The next piece, "Members Don't Get Weary," a remarkable display of the current social landscape picked up where "r-Evolution" left off. Set to the music of legendary jazz saxophonist and composer, John Coltrane, the piece captivated the audience with spellbinding steps and seamless choreography. The dancers' bodies evoked immense emotion with every move—conveying a gripping story of triumph.
The final rendition, "Revelations," a cornerstone to AAADT's legacy—was a soul-stirring, hand-clapping and foot-tapping performance that entranced the entire audience from start to finish. This signature masterpiece transfixes you and takes you to a spiritual place. With the stirring church songs and traditional organ chords, you're transported to the church in which Ailey drew inspiration from while choreographing this piece. It's as if your soul soars above the seats and floats center stage alongside the artists. Witnessing the effortless elegance and power of this performance is akin to an out-of-body experience (at least what I'd assume one to be).  It's no wonder the ballet has been seen by more people around the world than any other modern work—it's that good.
From the brilliant, symbolic costumes, to the top-notch lighting, to the riveting music, the show's overall production is beyond praiseworthy. While the artists were indeed the stars of the show, the staging was superb and allowed the dancers to elevate and showcase their breathtaking artistry.
To top off an incredible afternoon, guests were also treated to a Q&A session with the dancers and veteran Ailey dancer, Hope Boykin. Attendees learned about their inspiration, background and future aspirations.
Watching the uber-talented dancers demonstrate their creativity through movement has inspired me and my daughter. While I'm sure she didn't understand some of the elements, art is universal and witnessing poetry in motion is something that everyone can enjoy. After the show, she couldn't stop twirling and swaying her body from left to right. You never know, I might see her on stage with the ADDT one day. Now that would be a dream.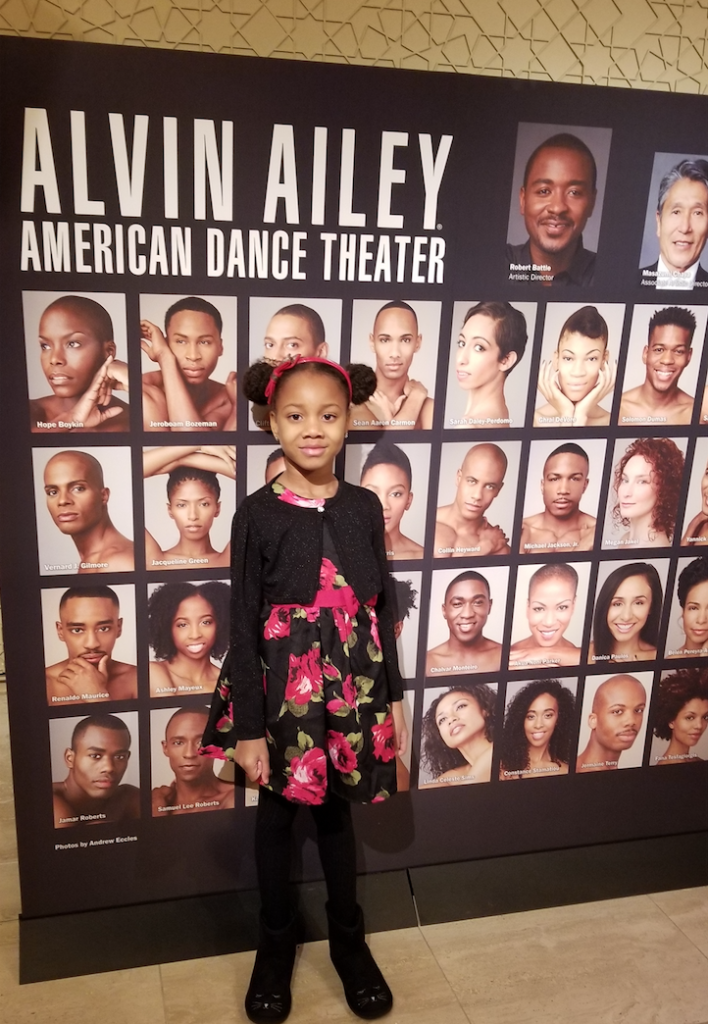 Below, please find the remaining Family Matinee schedule:
Saturday, Dec 16, 2pm – The Winter in Lisbon, Night Creature, Cry, Revelations
Saturday, Dec 23, 2pm – Four Corners, After the Rain, The Hunt, Revelations
Saturday, Dec 30, 2pm – Four Corners, After The Rain, Mass, Revelations
All performances will take place at New York City Center – 131 West 55th Street, between 6th and 7th Avenues, New York, NY. For ticket information, please visit: www.nycitycenter.org
**Disclosure: I was given two comp tickets for review purposes only. All thoughts and opinions expressed are my own. 
Have you ever seen an Alvin Ailey Dance Theater performance?