If you're a BG and haven't had your heart checked in the past six months, keep reading.
Last week I had the opportunity to attend an eye-opening panel discussion on heart health and how it affects women, especially us African-Americans. Presented by Burlington in partnership with WomenHeart, the esteemed group of speakers included popular TV talk show host and personality, Wendy Williams; four heart disease survivors and a renowned cardiologist.
While Wendy Williams doesn't personally suffer from heart disease, she aims to use her platform – "The Wendy Williams Show," to help educate women about the illness. She provided some hilarious sound bites throughout the discussion that served as a bit of comic relief for a very serious topic. "Eating shrimp can give you 'the heart' right, doc?" she jokingly asked. Although heart disease is no laughing matter, Wendy's humor and candor opened the conversation to some troubling facts.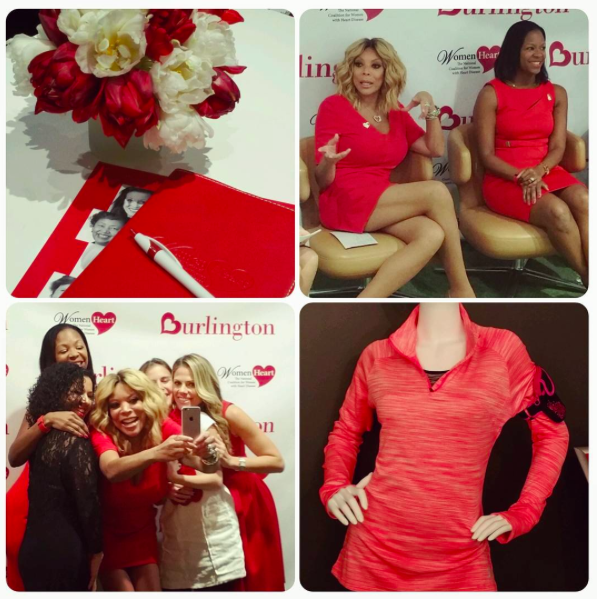 Here are some of the top five things I learned from the panel:
1. Heart disease doesn't discriminate. It kills more women than breast and lung cancer combined. In fact, one in four women will die from heart disease.
2. Thin doesn't necessarily mean healthy. You can be thin and exercise and STILL be faced with heart disease. One of the panelists, Essence Harris-Banks was a dancer and very active prior to being diagnosed with coronary artery disease.
3. Watch your weight. The more you weigh, the more your heart has to work pump. Even losing 5 pounds can make a big difference.
4. Don't Stress. We all know stress is a killer. Meditation, yoga and deep breathing can help relieve stress, ultimately reducing your chance of heart disease.
5. We BGs have a higher risk. Women with diabetes have a 2.5-fold higher risk for developing cardiovascular disease. African-Americans are disproportionately affected by diabetes, which contributes to the 81.9% higher risk of developing heart disease .
Even though National Wear Red Day for heart disease is behind us, the fight against this disease is ongoing! That's why Burlington customers have the opportunity to donate $1 or more at a checkout and their funds will support WomenHeart. The contributions will go toward further educating women about heart disease and their health.
Want to learn more and help the cause? Throughout February, tune in to the Wendy Williams Show to get fun and easy daily healthy heart tips. If you're a Wendy-watcher, simply snap a photo of how you are using that tip or show what heart health means to you be posting a #HealthyHeartSelfie. For every photo posted with that hashtag, Burlington will donate $1, up to $25,000, to benefit WomenHeart.
In the words of Wendy, "Don't talk so loud and breathe. Love yourself now, tomorrow may be too late."
How do you take of your heart?