Hip-hop fans may know Trina as "The Baddest Chick," but the popular rapper is expanding her résumé and  branching out into the beauty world.
The thirty-something Miami native is currently serving as the brand ambassador for Body of Royalty. Tapped by the cosmetics company earlier this year, Trina will be the face of their mink eyelash line.
Described as a brand for women who are confident, provocative, and create their own definition of beauty—Body of Royalty seems to have chosen the perfect "queen" for this campaign. Recognized for her curves, bold eyes and self-assurance, Trina exudes an independent attitude that the brand celebrates.
I recently caught up with her to discuss this partnership, her sex symbol status, the products she can't live without and more!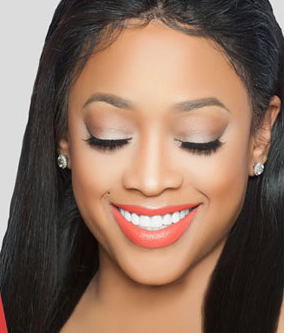 Check out the Q&A below:
BGG: Tell me about your partnership with Body of Royalty and why did you decide to team up with them?
Trina: I am a fanatic of eyelashes and I think they have a nice quality of products. Again, I'm a huge fan of lashes. The fact that they have 100% mink top and bottom lashes is what initially drew me to the brand. I love the lipstick and makeup too. For anyone who loves to get dressed up love to wear lashes.
BGG: What do you think separates their lashes from different brands?
Trina: The quality is outstanding. You can wear them up to 25 uses before having to toss them out.
BGG: Before being in the spotlight, were you always a makeup girl?
Trina: Yes, I always enjoyed getting dolled up. I grew up surrounded by a bunch of women so you know there were always hair/makeup, clothes, shoes and other girly things around.
BGG: Aside from eyelashes, what are some of your must-have beauty products?
Trina: I'm a really big fan of facial cleansers, eye serums and simple moisturizers. I'm in Miami, but I have to have them wherever I go.
BGG: You've had many hairstyles throughout the years. Are there any hair trends that are off-limits?
Trina: I don't know because I'm really just a throw-my-hair-into-a-ponytail kind of girl. I don't like styles that are too neat or too done. I don't think I'll ever go too crazy with colors. I stick with my main two: goldish-blonde or black.
BGG: Everyone knows that you're a considered a sex symbol in the hip-hop community. When do you feel the sexiest?
Trina: I think I'm the sexiest when I'm happy because it brings out a lot of confidence.
BGG: When you're not making music or playing around in makeup, what do you do for fun?
Trina: I prefer to do absolutely nothing. I love to relax. But, if there's a beach around that's where you'll find me.
BGG: You've had a long successful career in the music industry. What advice would you give an up-and-coming artist?
Trina: I would tell him/her to be focused because this industry is nothing to play with—only the strong survive. You have to be determined and know exactly what you want and stay true to who you are no matter what because there are a lot of ups and downs.
BGG: Past or present, whose celebrity style do you admire the most?
Trina: I would say Diana Ross because she's always been so glamorous, fabulous and ladylike.
BGG: What would fans be surprised to know about you?
Trina: With all of the social media and blogs out there I don't know. (laughing) But, people probably wouldn't know that I cook a lot. Because I travel so much, people wouldn't imagine me cooking like a big Thanksgiving dinner.
BGG: What do you enjoy cooking the most?
Trina: I'm a huge seafood lover; I could cook it everyday.
BGG: What are a few of your TV guilty pleasures?
Trina: I don't really have any. Every now and then I get nosey and see what's going on on TV, but again I'm traveling so much I miss all the good stuff. I am excited and looking forward to watching Nene Leake's new show with Kim Zolciak ("The Road to Riches"). Also, Lifetime is my favorite to watch when I have TV time.
BGG: What can fans expect from you regarding your upcoming music?
Trina: I have a bunch of different songs that were recorded for the album. The music is energetic, fun, sexy, vulnerable, and just a fun album.
Do you occasionally wear false eyelashes? If so, what's your favorite brand? Are you a fan of Trina's?