Elle Varner may not have taken home the Grammy for Best R&B song for her smash hit, "Refill," but the breakout star was a still a major winner on the red carpet.
The Los Angeles-native's black & white gown was complemented by her gorgeous long, 70s-inspired long locks. Clear Scalp & Hair Therapy celebrity hair stylist, Oscar James, wanted to create a memorable look for Varner's Grammys debut.
"This was Elle's first time attending the award show and she is a nominated artist so we really wanted to do something different than her usual style," said James.
Below, Oscar shares tips on how to get Elle's lovely Grammys look:
1. Always start with the right foundation and that means a nourished scalp and hair. Rinse and condition with Clear Scalp & Hair Beauty Therapy Ultra Shea shampoo and conditioner for strong, beautiful hair that can hold any style
2. Next, create a center part and blow dry hair straight.
3. Once dry, flat iron hair in small, quarter-inch sections to make sure heat is evenly distributed to every strand.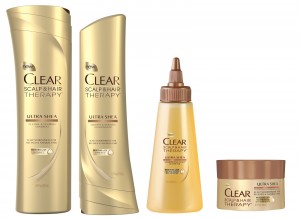 Clear Scalp & Hair Therapy products are available here; starting at $5
4. Then, use a drop of the Clear Scalp & Hair Beauty Therapy Ultra Shea Nourishing Scalp & Hair Oil, emulsify and run through hair from scalp to end to add gorgeous shine and tame flyaways
5. Finish with a spritz of hair spray for extra hold.
What do you think of Elle Varner's look? Did you watch the Grammys? What was your favorite moment?