The 2016 Summer Olympic games may have come and gone, but the positive effect it had on little brown girls around the world will last a lifetime.
If you had never heard of Simone Biles prior to the global sporting event of the summer, you're not alone. Admittedly, I wasn't familiar with the athletic dynamo either, but like you, I quickly became acquainted. After leaving all kinds of #blackgirlmagic sprinkled throughout Rio's arenas, seemingly overnight the world knew her name.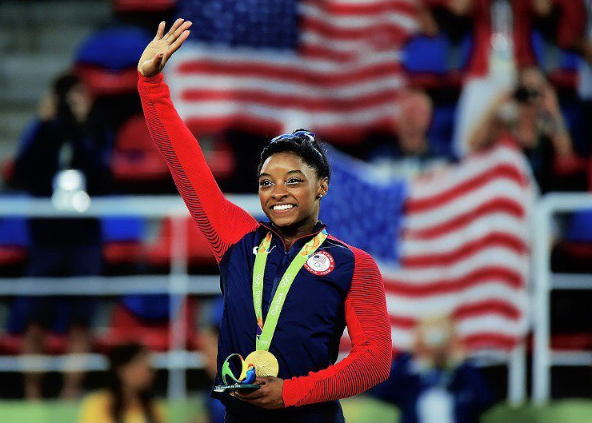 Photo via Simone Biles' Instagram
While we adults were proud and admiring her record-breaking achievements in gymnastics, our little ones seemed to be even more enthralled. To say that my daughter, Ava, was mesmerized by Simone's gravity defying acrobatic moves would be an understatement.
As a self-proclaimed gymnast, she was glued to the television (or tablet screen) every night to watch Simone work her magic from the balance beam to the uneven bars. No matter what flip or tumble she did, Ava marveled at her every move. After each of Simone's effortless leaps, Ava said, "Mommy I can do that!" And I, of course assured her that yes, she could in fact replicate Simone's awe-inspiring moves and possibly perform them even better – just with a bit of determination and practice.
Taking home an astonishing four gold medals (individual all around, vault and floor—plus a bronze medal for women's beam), Simone was clearly her favorite, but the gymnastics superstar was far from the only BG rocking the Olympic stage. Simone Manuel broke down barriers of being the first African-American woman to win an Olympic gold medal in an individual swimming event, while Team USA's women's track and field team took home several first-place prizes.
Witnessing these astounding achievements made by young African-American women gives my daughter and all brown girls the ability to dream big and know that their goals are within reach and attainable.
Now that's #blackgirlmagic!
What was your favorite sporting event at the Olympics?