Ever since seeing Mickalene Thomas' eye-catching portraits and colorful collages a few years ago, I've been captivated by her work.
That's why I was surprised, yet thrilled to learn that the acclaimed visual artist's latest masterpiece wouldn't be adorned with her signature sparkly rhinestones or vibrant patterns affixed on wood panels, but instead would be a heartfelt story told through film.
"Happy Birthday To A Beautiful Woman," is Mickalene's first film project and will premiere tonight on HBO. The docu-short is a touching, semi-sad, celebratory ode to her mother,"Mama Bush," who is also the subject and inspiration behind many of her portraits.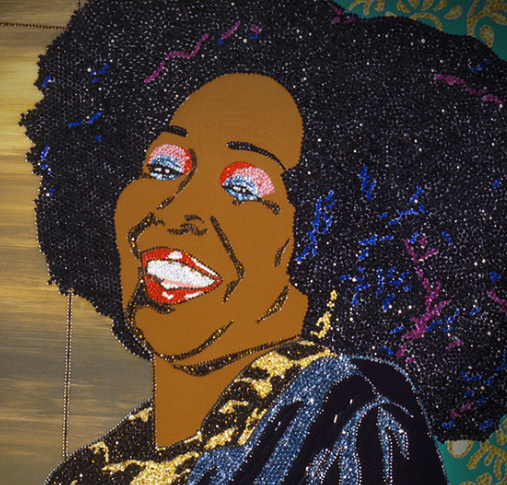 Mickalene's undeniable creativity is showcased throughout the film as she allows photographs, music and cinematography to serve as powerful storytellers alongside her mother's gripping recounts of dreams deferred, abuse, and addiction. Her story of struggle and overcoming adversity is universal, which is why this piece is sure to resonate with everyone, especially women.
"Happy Birthday to a Beautiful Woman," premieres tonight, February 24 on HBO at 9PM EST.
I had the pleasure and privilege to speak with Mickalene about the film, her mother and more. Check out the interview below:
BGG: "Happy Birthday to a Beautiful Woman," was excellent. I was so sorry to learn that your beautiful muse/mom passed away.  What was it like working with her on this project?
Mickalene Thomas: My mother is such an elegant and charismatic person. I think that was one of the reasons why I was always inspired by her…with her strength and resolve despite the difficulties (health issues, addiction and abuse) throughout her life. Doing this film allowed me to really see that person and love that person, which is why I wanted to make this film. Using her as a subject for this film was actually quite easy. Initially it was going to be an art show/project. But, after I conceived the idea and  talked to friends about it they suggested that I use film as a way to tell the story.
BGG: What do you want viewers to take from watching this film?
MT: I'd like for them to know what a great opportunity it was for me or anyone to create a great tribute to their mother. I think that's something that we all hope to do in our own way in our lives no matter what we're doing in the world. That's why the title for me is so important. "Happy Birthday to a Beautiful Woman," is a title that signifies celebrating motherhood and womanhood. I think my mother putting that on her cake for her 50th birthday was a mantra for her because that's the time when her health declined. It was the inspiration that she needed in order for her to persevere.
BGG: So it was easy for you to decide on "Happy Birthday to a Beautiful Woman," as the title, right?
MT: It was really easy because as I mentioned, she put it on her cake for her 50th birthday party.  During her party, I had taken a photograph of the cake. When I was filming her at her house, I saw that she had it framed and put it on her nightstand. It was then that I realized that the title was already there for me to use.
BGG: Do you plan on doing more films?
MT: Absolutely! I do plan on doing more films. I am really interested in filmmaking as a means to tell a story as an artist. I'm actually interested in doing  a semi-autobiographical feature film that deals with love (a love story).
BGG: Has your daughter (18-month-old Junya Rei) changed your approach to your craft? Will you incorporate her into your artwork?
MT: Yes, she actually has! My new body of work that I'm doing a preview of on March 6th (Brand New Gallery in Milan, Italy) is a tribute to that. It is very much childlike and free in dealing with geometric and formal aspects of painting. I think it has a lot to do with that child's play of how kids see the world and them grabbing at things and having a response to what's right in front of them. The portraits that I'm making are all untitled pieces because I want the viewers to have their own experience of the work; unlike my others that have titles that acts as a way of how it should be perceived.
BGG: The juxtaposition of patterns and the women in your paintings is so eclectic and beautiful, from where do you draw that inspiration?
MT: I was always looking at African textiles and photographs from African photographers from the 1970s and was just really inspired by those patterns. I also drew inspiration from my own family (my grandmother) and started bringing them into the work to create environments for my portraits.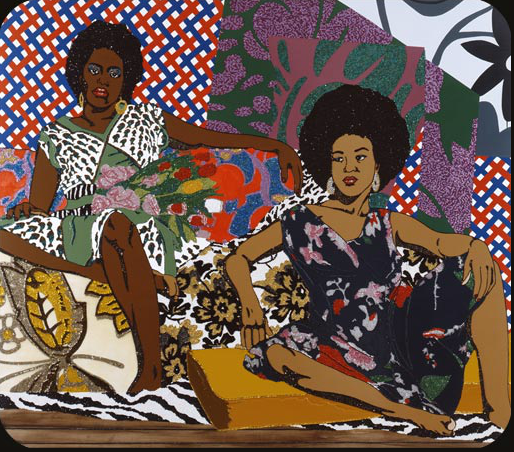 BGG: How has fashion influenced your aesthetic?
MT:  For me, fashion has always been a part of my aesthetic. The patterns I use, the fabrics that I'm interested in, and juxtaposing them with what the women are wearing in my portraits is very important. I look at fashion spreads for composition and how some of the women are posed, as well as  historical art compositions. And, I like fashion myself.
BGG: I know that rhinestones are prominently used in your work, tell me about that decision.
MT: Rhinestones are sort of a primary fashion aesthetic that's used in a lot of fantastic dresses and garments throughout the world. They have always been a part of my process. One of the reasons why I'm interested in using them is because they come from very high to low quality. They're these pieces that you put on to embellish or to make something  more beautiful or to stand out. So these notions of beauty signify the same sort of thing in relationship to how a young girl emulates her mother by learning how to dress. So those are transformed through the relationship of young girls and how they see themselves through their mothers. And I think that's why I use my mother a lot in my work.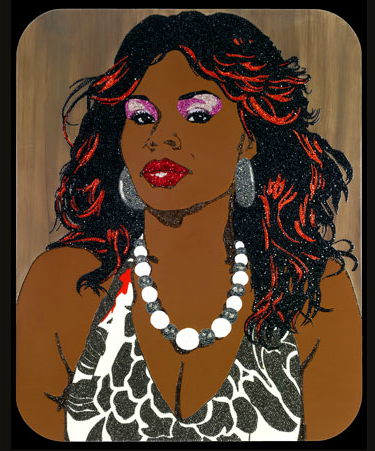 I really want people to  hold on to this title ("Happy Birthday to a Beautiful Woman") because it's not just about the woman being beautiful on the outside, it's the whole woman and what we represent in the world: what we go through, how we persevere, how we give life, how we struggle, how we uphold families and how we persevere and the tenacity of what a woman is from the inside out.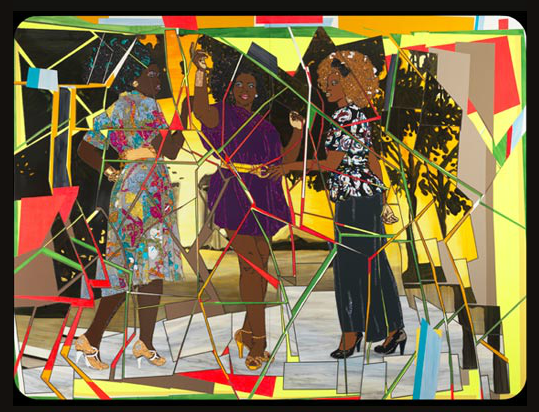 BGG: What has been your proudest moment thus far in your career?
MT: At this moment I would say that this documentary is one of my proudest moment because it has transcended beyond the boundaries of my own work of only being in art galleries and museums . It's reaching a larger public audience of people that I don't think I've ever imagined to reach. There are very few creations in the world that break the barriers where it allows for a larger audience. I think film, music, and literature do that where more people can see it and be inspired by it.
Will you be tuning in "Happy Birthday to a Beautiful Woman" tonight?