We all have our creative sides, but it seems like God gave Amanda Seales  (formerly known as Amanda Diva) a little more than the rest of us!
The Los Angeles native, 31,  who calls New York City home is an all-around Renaissance woman. If being one of the hottest and most sought-after DJs in the city isn't enough, the multi-talented Columbia University alum is also a visual artist, poet, playwright, singer/songwiter, entrepreneur, TV personality and the host of the recently wrapped VH1 show, "Masters of the Mix: Season 3."
I recently caught up with the girl-about-town diva to dish about her inspiration, beauty routine and of course, music!
Check out the Q&A below: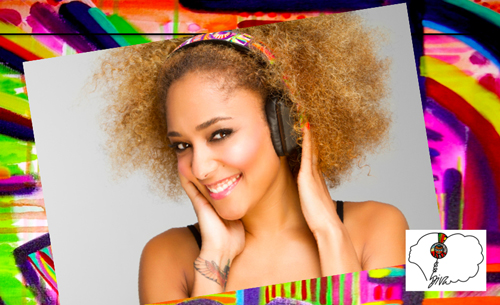 BGG: Your artwork is absolutely beautiful! What do you enjoy creating the most?
Amanda Seales: Thank you! Lately I've found myself becoming more interested in going the fashion route with my art I've really enjoyed spicing up pieces like purses, bangles, denim. Eventually I'd like to have my won clothing and home lines. I also really love doing big pieces. I don't really get the chance to because of time and space (these NYC apartments aren't great for that) but I love the feeling of accomplish after I finish and seeing what started as a little thought in my mind realized tangibly on a big canvas.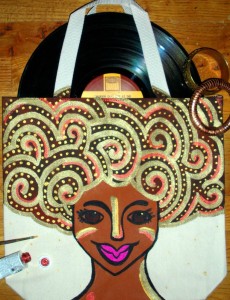 Soul Fro Canvas Tote Bag available here, $30
BGG: During your travels, what country or city inspires you the most?
AS: Paris. Hands down. It's so aesthetically beautiful yet gritty it is as if it were built for the specific purpose of inspiring artists!
BGG: What do you think are the challenges (if any) that female DJs experience that their male counterparts don't have to deal with?
AS: Dudes hollering at us while we're in the booth. (laughing) You have no idea how annoying it is and the insipid questions like, "So you be djaying??" CLEARLY.
BGG: Being the epitome of a Renaissance woman with a super busy schedule, what are your beauty & hair secrets to always looking camera-ready?
AS: As far as beauty secrets I'm pretty simple. I wash my face daily with Oil of Olay Total Effects. In regard to makeup, I use the Bobbi Brown Bronze "Shimmer Brick" as a shimmer and love a pop (of color) on the lip and I try to get creative with my eyes. On shoots, I have makeup artists use a tinted moisturizer instead of foundation as it's less wearing on my skin. Dairy gives me pimples on my forehead so I try to stay away but damn, that Haagen-Daz is SO inviting!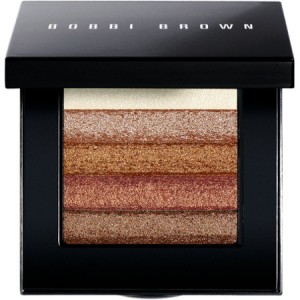 As far as my hair, I also keep that simple too! I wash my hair about every other day and comb it out and condition on weekends. In the shower I use Hair Rules Daily Cleansing Cream Moisturizing No Suds Shampoo and Hair Rules Quench Ultra Rich Conditioner. For daily upkeep, I use Carol's Daughter Hair Milk as a leave-in to keep my curls defined and voluminous.
BGG: You have such a refreshing personal style. How would you describe it in three words?
AS: Thanks! I never really considered myself stylish but I've really been giving more effort to it so that means a lot! Amazing designer Sharufa Walker of Jinaki gave me some great advice she said, "Amanda you are gifted with use of color on canvas. Use that same gift and apply it and treat yourself like the canvas and your clothes like the paints." That has totally changed my mind frame and given foundation to my style over night! I would describe it as Colorful. Classy. Feminine.
BGG: Like most of us, music is a huge part of your life. When did you know that you wanted to make a profession out of it?
AS: I honestly never knew. It just happened. One day I was doing poetry and after the show was offered a job as a radio host at Sirius Satellite Show. I was always a music lover but it was then that the hobby became a profession.
BGG: Being an '80s baby, you've seen hip-hop undergo many changes. What do you think of today's hip-hop landscape?
AS: Blechhhh.
BGG: If you could only play one album for the rest of your life, what would it be? Why?
AS: Bob Marley "Legend" because it is multi-dynamic musically and emotionally. There is a song for every feeling and mood.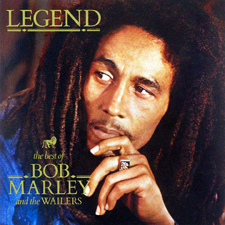 BGG: Being so multi-talented, what do you envision for your future career-path?
AS: In the future I want to continue to raise the platform on which I'm hosting and creating. Whether it's programming content, art, djaying, or written work (plays/books), I am ready to elevate and have my own television show, book, branded endorsement featuring my art, etc . I also hope to be able to one day live comfortably and consistently off of my prolific mind.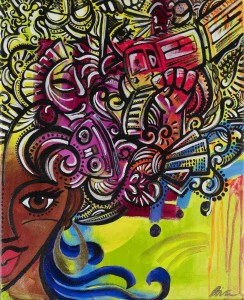 BGG: I know that you often speak with young women in college, what has been your best advice to them?
AS: I feel like only they would know what my best advice to them has been, but I try to always instill in them the importance of preservation of integrity and the importance of education. Those are two things that no one  can take from you!