When it comes to foundation, I'm not the biggest fan. Sure, I have my fair share of blemishes that need to be masked, but concealer has always been my coverage of choice.
That all changed when IT Cosmetics launched its new Confidence in a Compact last month. See, I've been obsessed with the brand's Confidence in a Jar moisturizer for a while now. So, when I heard that they were formulating a foundation that was infused with the moisturizing serum, I had to give it a try.
I'm always stressing the importance of packaging and the vital role it plays in winning me over. Well, IT Cosmetics always delivers in that department. The chic, luxe compact is impeccably designed in a shiny silver case that conveniently holds the makeup sponge on top of the foundation. Plus, unlike most foundations, you don't have to worry about messy drips or spills because of its sold-to-serum formula.
The scent was the second thing I noticed, it had that same fresh lemony fragrance that I loved from the moisturizer. One of the reasons why I never got into foundations was because of the heavy, cake-y, overly made up look it typically creates, but this one goes on so translucently that it's like a second skin. The virtually weightless, anti-aging formula can be applied with the accompanying sponge or brush for full coverage. Since I'm still not big on full-face makeup, I do like to blend it with my concealer using my fingertips.
Oh and it keeps skin hydrated without making it greasy or overly shiny (I have super oily skin so I swear by mattifying primers). Available in seven complementary shades, there are four that cater specifically to melanin-rich skin.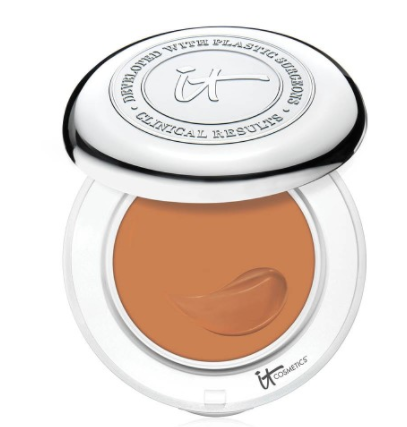 If you're looking for a convenient foundation to even out your skin tone, definitely get with it – get it? "It" as in IT Cosmetics!
Do you wear foundation on a daily basis or simply for special occasions?